The politics of pre-school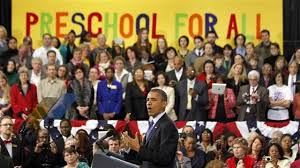 The richest man in North Carolina was in DC to demand even more taxpayer-funded preschool:
Jim Goodnight, the CEO of Cary software company SAS, spoke at a press conference in Washington Wednesday marking the roll out of bills that would expand voluntary preschool nationwide if they become law.

Goodnight urged Congress to pass the bills. Joining him were actress Jennifer Garner, Education Secretary Arne Duncan and the lawmakers who introduced the bills – Sen Tom Harkin, D-Iowa, and in the House, Reps. George Miller, D-Calif., and Richard Hanna, R-N.Y., the only congressional Republican who has declared support for the legislation so far.

"I'm the head of a company that receives 60,000 job applications every year," Goodnight said. "Right now the top jobs in statistics, economics research and operations can take two years to fill because we simply can't find people with the skills to do them.
OK. So. we've got the wealthiest man in North Carolina, a gazillionaire Hollywood actress who likely has her kids in some of the best private schools in the country, two commie-lib Democrats, and a clueless NY Republican cheerleading for this bill.  THAT info right there tells me the rest of us are in big trouble if this thing gets off the ground.
And what exactly does expanding government-funded preschool have to do with filling statistics and economic research jobs at SAS?  Even if there was a clear correlation, Goodnight is going to have to wait 20+ years to interview any of those kids for a job.  MORE:
Rep. John Kline, R-Minn., chairman of the House Education and the Workforce Committee, said in a statement: "We can all agree on the importance of ensuring children have the foundation necessary to succeed in school and in life. However, before investing in new federal early childhood initiatives, we should first examine opportunities to improve existing programs designed to help our nation's most vulnerable children, such as Head Start and the Child Care and Development Block Grant."
Meanwhile, arguments are being heard in front of the NC Supreme Court as to whether North Carolina taxpayers should have to foot the bill for ANY and EVERY child whose parents want them in preschool.
Also, there are some findings that North Carolina families pay more for daycare / preschool / pre-K (over a TENTH of the family's income!) than families in any other southern state and most of the country:
Children are a delight. They are our future. But sadly, hiring someone to take care of the noisy little bundles of love while you go to work is getting more expensive by the year. 

Earlier this month, the advocacy group Child Care Aware reported that the cost of enrolling an infant or toddler at a childcare center rose a bit under 3 percent in 2012, faster than the overall cost of living. There are now large swaths of the country, shown in grey shades below, where daycare for an infant costs more than a tenth of the median married couple's income. In states like Oregon, New York, Minnesota and Massachusetts, it's more than 15 percent.

This is not necessarily a new trend, but it is a somewhat puzzling one. According to the Census, the price of professional childcare has been rising since the 1980s. Yet during that time, pay for professional childcare workers has stagnated. As the Census points out, care givers actually make less today, in real terms, than they did in 1990. Considering that labor costs are responsible for up to 80 percent a day care center's expenses, according to Child Care Aware, one would expect flat wages to have meant flat prices.

So who's to blame for higher child-care costs? The government, I suspect.

Child care is a carefully regulated industry. States lay down rules about how many children each employee is allowed to watch over, the square footage centers need per child, and other minute details. And the stricter the regs, the higher the costs. If a center is required by law to have 25 square feet of space for every kid in a program, it can't ever downsize its building when rents rise. If it has to hire a care giver for every two children, it can't really achieve any economies of scale on labor to save money when other expenses go up.  A comparative case in point: in Massachusetts, where child care centers must hire one teacher for every three infants, the price of care averaged more than $16,000 per year. In Mississippi, where centers must hire one teacher for every five infants, the price of care averaged less than $5,000.

Unfortunately, I don't have a state-by-state history of day-care-center regulations handy. But I wouldn't be surprised if as the rules have become more elaborate, prices have risen. The tradeoff might be worth it in some cases; after all, the health and safety of children should probably come before cheap service. But certainly, it doesn't seem to be an accident that some of the cheapest day care available is in the laissez faire South. 
It seems like the statists are practicing the same strategy with child care as they are with health care:  Make private alternatives so unwieldy and expensive that consumers run to the open arms of the government bureaucracy.