Prostitution or Public Service: A Time for Choosing on Raleigh's Jones Street.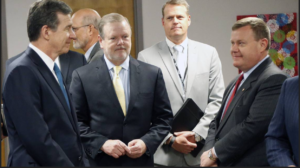 We've told you about all of the weed and casino money flooding into Raleigh. We've told you about the back-room wheeling-and-dealing to plant casinos from Murphy-to-Manteo without bothering to consult the very people supposedly being represented on Jones Street. 
Will listening to the people back home and acting on their wishes lose out to pockets stuffed with cash by shadowy out-of-state interests?  We're about to find out:
North Carolina House Speaker Tim Moore said Tuesday that GOP leaders in his chamber are still trying to determine if there is enough support among their ranks to move forward with a contentious proposal to open up to four new casinos across the state.

Moore spoke to reporters after House Republicans met for more than three hours Tuesday to discuss the casino proposal and other legislative business, ahead of voting sessions next week when GOP lawmakers say they hope to vote on and finalize a state budget. "We don't have anything to report back after the caucus, but probably will in the next couple of days," Moore said.

GOP leaders have described the proposal as calling for three casinos in Rockingham, Nash and Anson counties, and a fourth to be operated by the Lumbee Tribe. But Moore said Tuesday that some changes to that initial idea have been discussed behind closed doors.

Moore reiterated that a majority of the 72-member House GOP Caucus will need to support the eventual proposal for it to move forward. The proposal could be filed as a standalone bill, or be included in the budget lawmakers vote on next week.

Senate leader Phil Berger said last month the proposal will probably not advance as its own bill, and that it's more likely the proposal will be added to the budget or not acted on at all this session.[…]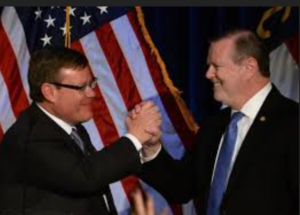 THIS GUY does not care what you think.  He cares ZERO.
The way to fix this?  You have until December to file for the 2024  primaries.  Berger and all of the other gambling cash whores in the General Assembly need primaries.  Desperately.
You just might be surprised at how many people out here really want to see a lot fewer Bergers & the like at the public trough. The generosity might surprise you.  Letting Phil & co. continue to hide behind  massive lobbyist-infused war chests, while ignoring you who they allegedly represent, clearly does not work and has not worked.  
MORE:
[…] LOCAL RESIDENTS URGE REPUBLICANS TO REJECT PLAN

The GOP caucus meeting Tuesday came as opponents of the proposal traveled from Rockingham and Nash counties, two of the four counties that could host new casinos if the plan is enacted, to speak out against the proposal and meet with lawmakers to urge them to reject it.

Elisabeth Corona, a realtor from Rockingham County who has lived there for 29 years, said she moved to the area because it was a place where "we all watch out for each other." Corona said she feared that introducing a casino to her community would lead to several problems, including lower property values, crime and substance abuse, and gambling addiction.

"Everyone does have a choice, but do you want to set people up for disaster, or have a part in making our state a better place to live?" Corona said.

She also criticized county officials who voted unanimously to rezone nearly 200 acres, which sit next to a camp for kids with special needs, for a potential casino.

Other speakers, including Rockingham County Sheriff Sam Page, said residents should be allowed to hold a referendum on the issue, before lawmakers take further action.

"That makes me think of 'we the people,'" Page said. "When I think of 'we the people' in our Constitution, it lets me know who I work for. I work for the people, our elected officials work for the people, and we should never forget that."

REPUBLICANS CAUCUS ON CASINO PROPOSAL

Former U.S. Rep. Mark Walker, who is currently running for governor, and who spoke at Tuesday's press conference, said he along with Page and local residents would be meeting with different lawmakers to urge them not to support the proposal.

Talk of casinos potentially being approved throughout the state ramped up after the legislature legalized sports wagering in June. The only casinos that are currently allowed to operate in North Carolina are on tribal lands.

Berger and Moore, along with other proponents, have pointed to the Caesars casino resort currently under construction in Danville, Virginia, just an hour and a half north of Raleigh, as an incentive for North Carolina to build its own casinos and not lose out on major entertainment revenue.

Some Republicans, such as Rep. Neal Jackson of Moore and Randolph counties, have spoken out against the GOP proposal, posting on Twitter that casinos don't align with family values and will only place a heavier burden on law enforcement.

Moore said that instead of asking caucus members to vote on the proposal during Tuesday's meeting, GOP whips would go around and ask members a series of multiple questions about the plan, to gauge how much support there is. He also indicated that House and Senate Republicans continue to have different ideas of what the proposal should include.

"The Senate had a concept that has been discussed, the House had some different views on that," Moore said. "And so, what we are discussing in the House would be what I would call the House position."