Pot & Pay-off$: Welcome to Raleigh's Republican 'revolution.'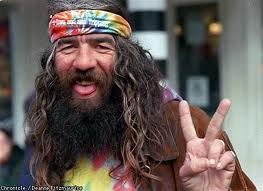 I hate to have to admit Bob Hall may be onto something.  But the cast of characters we have carrying the GOP standard in Raleigh make things sooooooo easy for leftists like him.
We've made it clear that the best way to get the GOP majority on Jones Street excited about something is to wave a $100 bill (or TWENTY or FORTY of them) at the 'honorables.'  Gettin' PAID clearly outranks "serving the people" in those parts.
I don't remember asking for legalized weed or legalized casinos from Murphy to Manteo.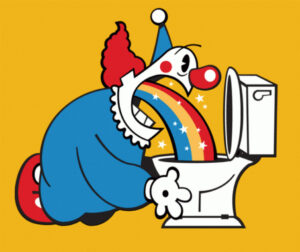 Apparently those things pay pretty well, so we are now oh-so-close to getting them both.
(Every time I hear one of these clowns in Raleigh claim – with a straight face – that weed is the only way to deal with extreme pain, I want to vomit just like the clown in this picture.  ==>)
Liberal activist Bob Hall has made that quite clear in his latest analysis on the passing-around of cash in the vicinity of legislators:
[…W]hile state legislators debated legalizing various forms of gambling and marijuana use, they also collected $530,000 in campaign contributions from political donors tied to those activities.

Much of the political money came from outside the state, as well as from donors sanctioned in the past for illegal gambling and drug operations, according to Bob Hall, a longtime analyst of campaign finances. He provided profiles of a dozen donors who have been arrested for illegal slot machines, fined $1 million for bribes, described by state regulators as "not persons of good character," or forced to destroy $1 million worth of illegally produced drugs. (See profiles below.)

"It's hard to understand why legislative leaders would want to help these shady characters, particularly in the gambling industry, until you see all the money they give politicians," said Hall.

He pointed out that a contribution from a donor in the gambling or marijuana business was the largest donation for 40 percent of the legislators who raised at least $10,000 from individuals between January 1 and June 30, 2023.

The top recipients – all Republicans – are Rep. Jason Saine ($42,200 from gambling and cannabis related donors), Sen. Brent Jackson ($34,800), Rep. John Bell ($29,000), Sen. Jim Perry ($25,100), Sen. Bill Rabon ($23,400), and Rep. Destin Hall ($16,200).

House Democratic leader Rep. Robert Reives received a bundle of nine donations on the same day totaling $8,100 from donors with the recently revived NC Coin Operators Association, a trade group for video poker vendors.

Hall noted that more than half the $530,000 came from individuals who had never given to a North Carolina legislator before 2022. "Suddenly, they're writing checks for $2,000 or $5,000 to a legislator. It looks like a lobbyist or somebody told them that this is a pay-to-play state – you need to put in the money if you want your bill passed this year or next."

North Carolina law bans lobbyists from giving or delivering contributions to a legislator, but it's not illegal for someone who hires a lobbyist to donate to legislators while they are deciding how to vote on a bill promoted by the lobbyist. "People might call that bribery," said Hall, "but the US Supreme Court says the donation is a form of free speech.

According to Hall's review of the NC Secretary of State's records, 38 gambling-related businesses and associations – including 29 based outside North Carolina – are paying 71 different lobbyists to promote their agenda this year to 170 state legislators. The list ranges from Las Vegas-based casino chains to local sweepstakes machine vendors. (See list below; sports organizations and NC sports venues that helped pass online sports betting are not included.)

Thirteen pro-cannabis firms and groups also have registered 29 lobbyists.[…]