North Carolina's "Monty Hall" Republicans in Washington …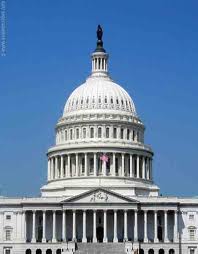 The new majority in the state legislature has been a pleasant surprise for North Carolina conservatives, who have stewed for years about the spending smorgasbord on Jones Street.  We have been seeing a lot of principled conservatism and common-sense legislation coming out of the legislature this year.
For 30 years, conservatives in North Carolina had a champion in DC in the form of US Senator Jesse Helms.  Helms, proud of his nickname "Senator No", spent years tying up and standing in the way of really bad legislation.  The bi-partisan Ruling Class poo-pooed Helms' s tactics, chiding them for harming the opportunity to "get something done."  Helms is now out of office and resting in his VIP suite behind St. Peter's gate.  Unfortunately,  Helms took all the principled conservatism in the state's congressional delegation with him when he went home for good to North Carolina.
We have our senior senator, Richard Burr, palling around with John McCain of Arizona – the gracious loser of 2008 –  and Lindsey "here's my lunch money, please don't hurt me" Graham of South Carolina.  This group heads up the "Let's Get Something Done" wing of the Senate GOP caucus.  Burr supports gays in the military and is co-sponsoring federal recognition (READ: massive new welfare programs) for Robeson County's Lumbee Indians — one of the Democrats' most reliable voting blocs in the state.  Burr voted for the debt ceiling increase, and helped undercut efforts to move the common-sense Cut, Cap and Balance legislation through the Senate.  He and Democrat Kay Hagan regularly make joint appearances and issue joint statements.
Rep. Howard Coble of Greensboro said he voted for the debt ceiling increase because "it was the best deal we could get."  Renee Ellmers, who knocked off Bob Etheridge in 2010 with Tea Party help, took the same route.  Apparently, Rep. Virginia Foxx — who has a reputation as a conservative stalwart — is jumping on this bandwagon, too:
North Carolina Congresswoman Virginia Foxx had a confrontation with her colleague, Rep. Michele Bachmann earlier this year, according to a profile of Bachmann in The Wall Street Journal.

According to the Journal, Bachmann, who has recently emerged as a major GOP presidential hopeful, had incensed some fellow Republicans by repeatedly criticizing proposed budget compromises aimed at avoiding government shut downs, insisting on provisions that would never pass the Senate.

In a closed door meeting of the House Republican conference this spring, Foxx singled out Bachmann by name saying she was making compromise hard by insisting on unrealistic provisions.

Trying to ease the tension, Bachmann said she didn't their criticisms personally.

"Well, you should," Foxx replied, according to people present, The Journal reported.
Bachmann has been a passionate advocate for dramatically reining in the scope of the federal government.  She has been a proponent of "Cut, Cap and Balance," which would have reined in the government without forcing tax increases or harming national interests. That, apparently, was an example of the "unrealistic provisions" Foxx had a problem with.
In the 1970s, a guy named Monty Hall hosted a show called "Let's Make A Deal."  Our delegation's Republicans have decided to emulate Hall and seek out opportunities to make a deal with Democrats and The Ruling Class at every turn.
Contrast that with GOP congressional delegation members from South Carolina.
[ Granted, they do have wimpy Lindsey Graham.]  Jim DeMint has become the new Senator No, taking on the role Helms had — many times being the only voice of common sense in the chamber.  Mick Mulvaney, who took out the state's last white Democrat in 2010, is backing up his words during the 2010 campaign with action in DC:
U.S. Rep. Mick Mulvaney says the nation would not have suffered the economic calamity that was widely predicted to occur if Congress had been unable to reach a deal last week to raise the debt ceiling.

Mulvaney said he fears that some Republicans appointed to a special committee to reduce the nation's debt will cave to Democrats pushing for revenue increases.

The only solution, said Mulvaney, an Indian Land Republican representing South Carolina's 5th District, is a bill requiring a constitutional amendment to balance the budget before raising the debt ceiling.

He helped write Cut, Cap, and Balance, a bill proposing just that. The bill passed in the U.S. House with mostly GOP support. The Senate tabled the bill.

"The only chance to pass a balanced budget amendment would be to stay in Washington" and see it through, Mulvaney said Wednesday. "Now the pressure's off."

The pressure is off because Congress passed a compromise bill to raise the debt ceiling in exchange for some spending cuts now and the promise for more later.

Mulvaney, and other South Carolina Republican lawmakers, voted against the bill whose slow emergence inspired fear of default and economic crisis.

There is disagreement on whether the threat of default was real.

Many "thought there was going to be some emergency, that there was going to be some crisis," Mulvaney said. "I didn't, but a lot of people did."

Mulvaney criticized "fear mongering" from both parties for turning the debt ceiling debate into a "fabricated crisis."

"There's plenty of blame to go around," he said.

Instead, legislators bought "short-term stability" for "long-term problems," he said.

The debate over the debt ceiling was an opportunity for legislators to do something "big," he said, and make deeper cuts.

But that didn't happen, he said.

"This is how laws get passed in Washington, D.C. – out of fear and out of hurrying to do things that aren't in our long-term best interest."
Republicans in South Carolina apparently are overloaded with testosterone.  Perhaps we can talk them into coming north across the border to share some of their surplus with our folks.
To North Carolina's congressional Republicans:  You guys are the majority!  We gave you guys a majority because you promised in 2010 to bring some common sense to operations in DC.    Did the Democrats– when they were in the majority — try to make deals with Republicans?  Democrats typically did not even allow Republicans in the room for meetings on crafting the final versions of legislation.
Compromise is for losers.  Republicans got a clear mandate in 2010 to seriously slash the federal government.  Stop worrying about the media.  They did not vote for you or help you in 2010, and they will not in 2012 or beyond.  You guys need to stop worrying about your press coverage, and start acting on what you promised.