When Mark met Robin: Preacher / candidate in his own words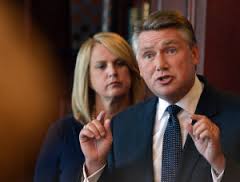 One of the biggest questions surrounding the US Senate candidacy of Charlotte pastor Mark Harris is how he got tied up with Robin Hayes — former congressman, former NCGOP chairman, Tea Party nemesis and proud member of the liberal Ripon Society.
At a recent Tea Party meeting in Wilson County, Harris spoke frankly about how his candidacy came to fruition. He told the assembled audience that NC Supreme Court Justice Paul Newby  advised him to connect with Hayes.
Harris explained that his work in support of the 2012 marriage amendment and his ascension to the presidency of the Southern Baptist Convention caused him to hear a real "outcry for leadership."
He said that he worked closely with Tony Perkins of the Family Research Council in the marriage amendment fight.  After the victory at the polls in 2012, Perkins got Harris involved with the national "Watchmen on the Wall" organization.
Harris said he was inspired by this national effort, and worked with Perkins to bring the movement to the regional and state level.  He spoke about a national simulcast from his church in Charlotte in August 2012 that drew more than 300 pastors and included speakers like Rick Santorum, Franklin Graham, Kirk Cameron, James Dobson, and Perkins.
Around the time of that event, Harris said Perkins suggested he start thinking  about running for office.  His political ambitions were derailed for the rest of the year by the death of his mother and his efforts to care for his father.  In January 2013, he said he spoke with Tami Fitzgerald of the NC Values Coalition about a possible run for office. Harris said he also sought the counsel of former state senator Jim Jacumin and justice Paul Newby.
After one meeting at Newby's court offices, Harris said the judge strongly advised him to get in contact with Robin Hayes.  At that point, Harris says he had only met Hayes THREE prior times: (1) In 1996, when Hayes ran for governor; (2) In 2003,  when Harris was leading a church youth trip to Capitol Hill in DC; and (3) in 2012, at a pro-marriage amendment rally.
Apparently, Hayes was SOLD on the idea of Harris running for office.  Hayes has helped assemble a campaign team for Harris that includes longtime Hayes political advisor Tom Perdue and several Hayes allies from Hayes' tenure as NCGOP chairman.  Earlier this week, we learned that Hayes flew Harris around the state for numerous local press conferences to announce his Senate candidacy.
A friend of this site, who happened to be in the room when Harris made these remarks in Wilson, had this reaction to the candidate's speech:
"Mark Harris is a likeable guy, and a very sympathetic figure.  But I am afraid he is being used by some people who don't have the reverend's, the state's, or the nation's best interests at heart."