Time to pull out of LBJ's War On Poverty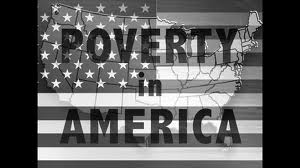 I think it was Albert Einstein who once said the definition of insanity is doing the same thing over and over again, expecting different results.
Statists in Congress are arguing — in the current unemployment insurance debate — that the government needs to spend even more money we don't have to "help" those in economic distress.  Democrats in Raleigh's General Assembly — aided by their media allies and The Round Rev's Moral Monday rabble — are attacking Republicans for trying to get the state's fiscal House in order and not turning the welfare spigot on full-throttle.
Liberals almost immediately protest any conventional military action by the United States. Yet, they have stuck with this so-called "War on Poverty" for 50 years.
The Heritage Foundation's Robert Rector had an interesting piece in yesterday's Wall Street Journal about government and its efforts to "help" the poor and down-trodden:
On Jan. 8, 1964, President Lyndon B. Johnson used his State of the Union address to announce an ambitious government undertaking. "This administration today, here and now," he thundered, "declares unconditional war on poverty in America."

Fifty years later, we're losing that war. Fifteen percent of Americans still live in poverty, according to the official census poverty report for 2012, unchanged since the mid-1960s. Liberals argue that we aren't spending enough money on poverty-fighting programs, but that's not the problem. In reality, we're losing the war on poverty because we have forgotten the original goal, as LBJ stated it half a century ago: "to give our fellow citizens a fair chance to develop their own capacities."

The federal government currently runs more than 80 means-tested welfare programs that provide cash, food, housing, medical care and targeted social services to poor and low-income Americans. Government spent $916 billion on these programs in 2012 alone, and roughly 100 million Americans received aid from at least one of them, at an average cost of $9,000 per recipient. (That figure doesn't include Social Security or Medicare benefits.) Federal and state welfare spending, adjusted for inflation, is 16 times greater than it was in 1964. If converted to cash, current means-tested spending is five times the amount needed to eliminate all official poverty in the U.S.

LBJ promised that the war on poverty would be an "investment" that would "return its cost manifold to the entire economy." But the country has invested $20.7 trillion in 2011 dollars over the past 50 years. What does America have to show for its investment? Apparently, almost nothing: The official poverty rate persists with little improvement.

That is in part because the government's poverty figures are misleading. Census defines a family as poor based on income level but doesn't count welfare benefits as a form of income. Thus, government means-tested spending can grow infinitely while the poverty rate remains stagnant.

Not even government, though, can spend $9,000 per recipient a year and have no impact on living standards. And it shows: Current poverty has little resemblance to poverty 50 years ago. According to a variety of government sources, including census data and surveys by federal agencies, the typical American living below the poverty level in 2013 lives in a house or apartment that is in good repair, equipped with air conditioning and cable TV. His home is larger than the home of the average nonpoor French, German or English man. He has a car, multiple color TVs and a DVD player. More than half the poor have computers and a third have wide, flat-screen TVs. The overwhelming majority of poor Americans are not undernourished and did not suffer from hunger for even one day of the previous year.
Rector co-wrote this 2011 piece about just WHO the poor in America are.  Here are some of the piece's findings:
[…]

As scholar James Q. Wilson has stated, "The poorest Americans today live a better life than all but the richest persons a hundred years ago."[3] In 2005, the typical household defined as poor by the government had a car and air conditioning. For entertainment, the household had two color televisions, cable or satellite TV, a DVD player, and a VCR. If there were children, especially boys, in the home, the family had a game system, such as an Xbox or a PlayStation.[4] In the kitchen, the household had a refrigerator, an oven and stove, and a microwave. Other household conveniences included a clothes washer, clothes dryer, ceiling fans, a cordless phone, and a coffee maker.

The home of the typical poor family was not overcrowded and was in good repair. In fact, the typical poor American had more living space than the average European. The typical poor American family was also able to obtain medical care when needed. By its own report, the typical family was not hungry and had sufficient funds during the past year to meet all essential needs.

Poor families certainly struggle to make ends meet, but in most cases, they are struggling to pay for air conditioning and the cable TV bill as well as to put food on the table. Their living standards are far different from the images of dire deprivation promoted by activists and the mainstream media.[…]
In his current piece, Rector points to the growth in one-parent homes and the drop in labor-force participation by men as some of the primary obstacles to a serious effort to eradicate poverty.
[…]. A large segment of the population is now less capable of self-sufficiency than when the war on poverty began.

The collapse of marriage in low-income communities has played a substantial role in the declining capacity for self-support. In 1963, 6% of American children were born out of wedlock. Today the number stands at 41%. As benefits swelled, welfare increasingly served as a substitute for a bread-winning husband in the home.

According to the Heritage Foundation's analysis, children raised in the growing number of single-parent homes are four times more likely to be living in poverty than children reared by married parents of the same education level. Children who grow up without a father in the home are also more likely to suffer from a broad array of social and behavioral problems. The consequences continue into adulthood: Children raised by single parents are three times more likely to end up in jail and 50% more likely to be poor as adults.

A lack of parental work poses another major problem. Even in good economic times, a parent in the average poor family works just 800 hours a year, roughly 16 hours weekly, according to census data. Low levels of work mean lower earnings and higher levels of dependence.
So, what does Rector suggest?  Require job training or some kind of actual work in exchange for receiving benefits.  He also points out that many programs seriously cut benefits if a mother marries a child's father.  Rector proposes reducing some of those restrictions.