Raleigh radio's Roche setting his sights on Renee Ellmers?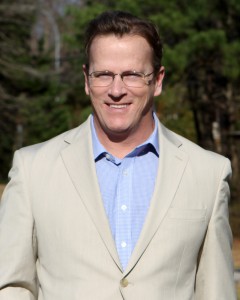 It appears that Raleigh-based radio talk show host Frank Roche will be jumping into the 2014 Second Congressional District GOP primary. The district is currently represented by Republican Renee Ellmers of Dunn.
Roche unsuccessfully sought the Fourth District GOP nomination in 2010 and the GOP nomination for state treasurer in 2012. We obtained a copy of an email Roche set out to supporters on Saturday:
[…] Four years ago I began my first congressional primary campaign to unseat Democrat David Price in North Carolina's 4th district. The Roche for Congress campaign team surprised the GOP establishment with a well organized, well financed, hard working effort winning 40.6% of the vote in a four person race with the conservative vote split 3 ways.

> The America First campaign focused on immigration, debt & deficits, international trade, education, and regulation – Obamacare. The campaign was focused on public policy and the connection to economic performance: jobs for Americans; opportunities for Americans. Sadly, as you know so well, today in 2013 nothing has yet improved in DC. Immigration expansion and amnesty is being pushed by Republicans. America's national debt is now nearly $6 trillion higher. The job sucking machine that is American trade policy is still humming along. Education decay continues and is accelerating in urban centers. And, the regulatory burden gets heavier and heavier as Obamacare and Dodd-Frank are fully implemented and more regulations rain down each day by Executive Order.

> Many 2010 Republican "tea party" candidates have proven to be nothing more than establishment republicans; go along to get along. Their campaign rhetoric in 2010 and 2012 is conservative and pro-American. Their voting record and non-campaign rhetoric is moderate and establishment; always sure to be on the establishment message.

> As Americans, as Republicans we must challenge our own incumbents when they fail to properly perform in their elected office. Performance measured by how they follow through on campaign rhetoric, voting records, time spent fundraising, the sources of fundraising, the ability to persuade, hard work on policy, constituent services and contact, ease of accessibility, and a demonstration of intellectual pursuits and integrity.

> Since the 2012 redistricting in North Carolina I have lived in the 2nd US congressional district. It was clear to me as early as July 2011, during the debate over the budget control act, that the 2nd district's freshman Republican representative should be challenged. I deferred. By September 2013 there is no longer a question; there must be a 2014 primary challenge to Renee Ellmers by a serious experienced candidate who can explain the issues, debate the issues, and fix the issues.

> I am ready to present that challenge. The analysis of Renee's voting record and time in Congress is done. The analysis of two cycles of voting data in the district is done. Conversations with donors are underway. The sentiment is clear; there is support for a primary run in NC-2. […]
Roche is the second Republican to publicly express interest in challenging congresswoman Ellmers's reelection.  Chatham County GOP chairman Jim Duncan has said he is being encouraged to run against Ellmers in the 2014 primary.
I spoke with a 2012 GOP candidate for a Council of State office who shared this anecdote from the campaign trail with me:
"I'll never forget the first time I encountered Frank Roche.  We were all at a county Republican gathering.  We all had our booths and tables loaded with campaign literature.  Frank had a life-size cardboard cut-out of himself that he stood up in the exhibition area.  Frank was dressed exactly like he was when the photo for the cardboard cutout was taken.  He spent quite a bit of time adjusting and positioning the cutout, taking a break every so often to stand back and lovingly admire it.  I've never quite seen anything like that."
Folks who know Roche well describe him as an aggressive, combative campaigner and debater who will not be shy about verbally savaging Ellmers.  He will be quite a contrast from the more reserved, diplomatic Duncan.
It's not clear how competitive Roche will be in the battle for campaign dollars.  Ellmers, as an incumbent, has plenty of access to lobbyist and PAC cash.  Sources tell me that Duncan has the financial wherewithal to self-fund a very competitive campaign.  Tea Party-aligned groups like Heritage Action and The Club For Growth have shown some interest in supporting Duncan's primary campaign.