#NCSEN: Show of hands. Who's got their 'big boy pants' on?

There's some, um, "intriguing" audio floating around cyberspace detailing a meeting between state House speaker Thom Tillis, at least two legislators, and some voters.  The meeting was apparently held in Tillis' Raleigh office following the release of THIS video featuring state Rep. Larry Pittman (R-Cabarrus). 
Listening to the audio, Tillis comes off like a prosecutor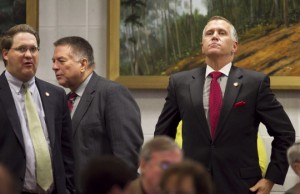 conducting a cross-examination.  He also sounds a bit thin-skinned — demanding an apology from people he feels misquoted him or disseminated what he considered false information about him..  That thin-skinnedness is rather surprising, considering Tillis' no-holds-barred aggressive take-down of incumbent Republican John Rhodes in 2006.  (What was the old saying about dishing it out?)
Take time to listen to the linked audio.  Here are some of the details I found interesting:
Toll Roads.  Tillis can be heard on the tape describing toll roads as the best idea he knew of to finance road construction. (I am sure the Trucking Association will be surprised to hear that.)  I can think of at least two better ones: cutting existing state spending and weeding out waste in the DOT. There has GOT to be something we could cut and NOT MISS.
Common Core. Tillis, on the tape, sounds upset with Pittman for characterizing Rep. Linda Johnson, a Tillis ally and chairman of the Education Committee, as a fan of the common core curriculum for public education. Tillis says on the tape that Johnson, like himself, is a supporter of a study of common core.  But Pittman held his ground and stood by his story.  State Rep. Michael Speciale (R-Craven) can be heard on the tape speaking up in defense of Pittman's version.
Primaries. Tillis can be heard on the tape telling his audience that the House caucus will not get involved in GOP primaries involving members of the caucus who are "in good standing." He clarified that by saying a vote of censure against you by 3/4 of caucus members  puts you in not-so-good-standing, and makes you a potential target for caucus involvement.  Tillis also told a story about a discussion he had with Pittman in 2010, when Pittman had filed for a primary against incumbent Jeff Barnhardt.  Tillis said he told Pittman what a bad idea it was to run against an incumbent Republican, and how counterproductive it was to the idea of obtaining a GOP majority.  THIS was coming from a man who arrived in Raleigh after successfully primarying Americans For Prosperity's Legislator of The Year. 
Big Boy Pants. Tillis can be heard on the tape confirming for his audience that he IS wearing his 'big boy pants'.  That's good to know.