#NCSEN: El Sr. Tillis quiere amnistía ahora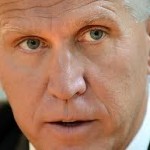 It looks as if some big donors are calling in some chits with the Tillis for Senate campaign.  Speaker Thom appeared before the NC Farm Bureau Monday to urge DC and Raleigh to get moving on "comprehensive immigration reform" and  "a pathway to citizenship.":
[…]

The Farm Bureau came out in support of the immigration bill the U.S. Senate passed earlier this year. The bill would include a path to citizenship for illegal immigrants, stronger border security, better entry-exit records to make it harder for people to overstay visas, and a verification system for employers.

When the Senate voted in June, Hagan was for it. Sen. Richard Burr, a Republican, voted against it. The U.S. House of Representatives has declined to take up the Senate's comprehensive approach, however.

Tillis at the time said he probably would have voted "No" along with the majority of Senate Republicans, but that he didn't know enough about it to say for sure.

The state House under his leadership has failed to pass comprehensive immigration bills.

But Tillis told the Farm Bureau that the next legislation session should focus more attention on immigration reform. That would be an unusual move in a short session, when controversial topics generally aren't on the agenda.

Tillis invited Farm Bureau members to "give us some ideas of more things we need to do around immigration policy and help me communicate across this state why effective immigration policy is so critical and so important to this industry."

He added, according to Democrats who tracked his remarks: "You all know what we need to do. … You go out there and talk about it. Start talking about smart immigration reform. You're going to help us get out there and actually get it done."

Earlier this year, Gov. Pat McCrory vetoed a state bill that triples the period in which seasonal workers do not have to have their immigration status checked in the federal E-Verify system. But the legislature overrode the veto.

Tillis told the Farm Bureau that the override was the right thing to do.

"I felt very strongly that was the policy that you all needed help on and relief on and I'm glad that my House members and my Senate colleagues agree," he said.
That's a special kind of talent to brand yourself as a "conservative," and then get to the left of Pat McCrory on immigration.
MEXICO is actually more hard-nosed about protecting its borders and enforcing its immigration laws than we are. Rewarding people who don't play by the rules is a slap in the face to ALL Americans — those who were born here, as well as those who emigrated here lawfully and were naturalized.