NC-02: Ellmers says immigration reform NOTon top of voters' lists. (So why push it so hard?)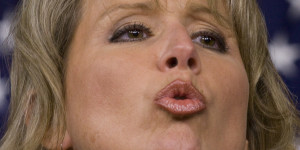 She's been all over the country and all over the media talking up the subject.  "Comprehensive immigration reform." "A pathway to citizenship."   
Some may see those terms as code that tap-dances around its true meaning: amnesty for illegal aliens.  Ellmers has positioned herself with Latino groups as an ally on immigration reform.  She's hosted seminars sponsored by amnesty advocates filled with business people who claim they can't find Americans to do the work they need done. Ellmers has even screeched and cursed at constituents trying to talk some sense into her about the subject.
Frank Roche, Ellmers' Tea Party-aligned challenger in this year's primary, is scoring major points with voters by hammering on the fact that Ellmers is carrying water for the House Republican leadership and the US Chamber of Commerce on the issue of amnesty:
Roche said Ellmers is part of Washington's "establishment Republicans," and her votes on debt, deficits, trade issues, National Security Agency surveillance, and drones were "failed efforts." But it was her decision "to take the lead on amnesty, doubling illegal immigration," that led him to challenge her. 

He advocates heightening border security, and disconnecting illegal immigrants from social services to cause them to return to their homelands through attrition. But he also believes there should be "a sharp reduction" in legal immigration.

Rather than family reunification or emotional issues, immigration should focus on the nation's economic needs, and industries that are dependent on immigrant labor, Roche said. That approach could reduce the number of new immigrants to below 500,000 a year. 

"This is, for me, an economics issue," Roche said. He said his book The Five Structural Barriers to American Strength and Prosperity "identified through empirical evidence that immigration is the No. 1 barrier for Americans" with respect to jobs, wealth creation, the wealth gap, and long-term unemployment."
I am often baffled by the things that come out of the congresswoman's mouth.  But this "defense" against Roche's amnesty criticisms really takes the cake: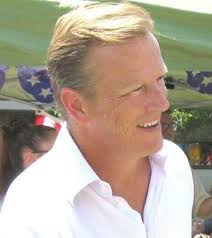 "It's not the No. 1 issue that my constituents care about. My constituents' concerns are about jobs, the economy, Obamacare, and how it's affecting their lives," Ellmers said, and her priorities align with those.

She said it is "an incredibly wrong and unfair approach" to accuse those who discuss immigration reform of advocating amnesty or a pathway to citizenship… "which of course I am not," Ellmers said. 
Not the number one issue?  Well, why is she all over the media babbling about it?  From MSNBC to Laura Ingraham to the New York Times. Why is she going nose-to-nose with constituents, berating them for not seeing things her way on the issue?  It's because she's a good soldier for Boehner-McCarthy-Cantor.  She does what she's told. 
Early voting is on.  You can vote in this race through the close-of-business on May 6.