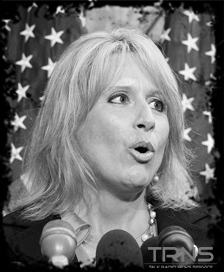 Renee Ellmers is damaged goods.  In her 2011 smooch-fest with The New York Times, she talked about the nation 'coding.'   In 2013, it would appear that it's her political career that's in danger of flat-lining.
Ellmers — a physician's wife — defiantly told the press that she would not forego her salary during the partial government shutdown because she "need[ed her] paycheck."
She poo-pooed efforts by The Tea Party to use the continuing resolution vote as leverage to defund ObamaCare. When Eric Cantor and John Boehner have needed her help to approve even more government spending and debt, she's been there for them.
Thumbing her nose at her 2010 core supporters from The Tea Party, Ellmers has embraced left-of-center GOP groups like The Ripon Society.
Reports are even circulating about poor customer service from her District and DC staff.  Case work is reportedly not being handled in a timely manner. Calls are not getting returned.  Visitors to her offices tell of rudeness by staffers.
I am hearing more and more negative discussion about Ellmers throughout the district.  I know.  I know.  There are probably some people telling me what I — a noted Ellmers critic — want to hear.  But I am even starting to hear negativity from folks who used to defend her to me.
It was disappoing to see Jim Duncan back out of a challenge to Ellmers.  Duncan is a capable, competent, principled, well-liked person who would have given Ellmers all she could handle.  Ellmers' only announced opponent — GOP or otherwise — is Raleigh broadcaster Frank Roche.
If recent history is any indicator, (see 2012 GOP primary for NC Treasurer), I am not convinced that Roche can put together a competitive, serious campaign against Ellmers.
I recently had a discussion — shortly after the Duncan withdrawal — with a major conservative politico seeking Ellmers' ouster.  He was clearly frustrated in the wake of Duncan's bow-out.  Noting  how time was getting short for launching a campaign, I asked how someone could jump in this late and be competitive.  He told me — with a straight face — that a credible, serious conservative challenger to Ellmers could easily raise mid- to high- six figures shortly after announcing.   The Second District is overwhelmingly Republican.  The winner of the GOP primary wins a two year stay in Washington DC.
The money — and the passion — for replacing Ellmers are there.  All that's needed is a serious candidate.