Ellmers: Support Public-Private Partnerships (P3s)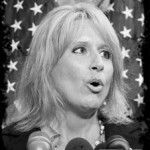 She's raised conservative ire over her positions on defunding ObamaCare and amnesty for illegal aliens.  Now, Ms. Ellmers is stirring the pot by praising the concept of public-private partnerships.  We've heard a lot about public private partnerships (P3s) from state House speaker Thom Tillis when it comes to expanding roads in the Charlotte area.  Earlier this month, Governor Pat McCrory keynoted a major regional conference on public-private partnerships in Charlotte.  This week, in the Sanford Herald, Ellmers is praising the idea of P3s in public education.  
Some may praise the idea of bringing the ideals of private enterprise into the operations of government.  The other side of the argument can point to P3s' potential for spawning crony capitalism.  Also, the entire concept of partnering government and business appears to teeter on the boundary of fascism.
Ellmers faces off against college professor and radio host Frank Roche of Cary in May's GOP primary.  The winner of that contest is likely to face off against former state commerce secretary Keith Crisco or pop singer Clay Aiken in November.