Driving in Pinehurst: speed traps, little old ladies in great big cars, and ANOTHER ROUNDABOUT???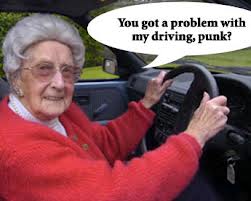 When you talk about driving in Pinehurst, most people's first thoughts go toward the kind don best  with TaylorMade or Callaway products.  The kind you do on four tires can get about just as interesting in our fair village.
Most people are familiar with our notorious traffic  circle.  I've seen plenty of people get bamboozled by it:  driving the wrong way, or even slamming on brakes in the middle of traversing it.  You want to really get bamboozled?  Try navigating your way through the winding web of streets in Old Town Pinehurst.   The 19th century layout — reminiscent of what L'Enfant perpetrated in DC — can have the uninitiated feeling like a mouse seeking cheese in a maze.
Now comes the village council with the idea of re-doing the intersection of McCaskill Road, Barrett Road, and NC Highway 5.  I admit that two streets coming together at one point at NC 5  can get a bit crazy.  Pinehurst police report that this intersection is becoming a regular location for traffic accidents.  One proposal before the village council is to possibly install a roundabout at the intersection.
Remember all of the hubbub over the last installation of a roundabout — on NC2 between The Carolina Hotel and Pinehurst Country Club?  No, the world did not end.  But the hubbub over the project riled up the town like someone was trying to start a trailer park on a lot fronting Pinehurst #2.
The proposal that seems to be leading among council members involves creating a cul-de-sac where Barrett Road meets NC5.  This all sounds like a run-in waiting to happen with the Historic Commission.  (The Village is already enmeshed in a nasty legal fight with the commission over improvements to downtown. ) 
Paging Mr. Newman.  Mr. Mike Newman ….