Will SC voters MACE Lindsey Graham?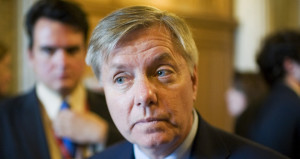 Tea Partiers in The Carolinas have an opportunity to make a forceful statement in the  2014 GOP primaries for US Senate.  In North Carolina,  they have a champion in the form of Greg Brannon . In South Carolina,  Nancy Mace — the first female graduate of The Citadel  and the daughter of a retired Army general — is stepping up to take on incumbent Senator Lindsey Graham.
Here's some more info on the lady who has got Palmetto State grassroots types excited about the prospect of bringing John McCain's best friend home:
Nancy Mace is not a politician; in fact she has never run for political office. She's a wife, mother and small business owner.

She is someone who is passionate about her country and she is someone who is seriously concerned about the direction it is going.  Nancy is the daughter of retired Army Brigadier General Emory Mace and school teacher Anne Mace, Ph.D. Nancy was born at Fort Bragg, N.C., while her father was a Major stationed with the 82nd Airborne. Many know Nancy as the first woman to graduate from The Citadel, the military college of South Carolina. She is also the author of In the Company of Men: A Woman at The Citadel, which world-renowned author Pat Conroy described as "The best book about The Citadel ever written."

Nancy knows all too well the kinds of sacrifices our military and their families make. She moved 10 times in her first 13 years of life. She saw many parts of the country and met people from all walks of life. Her constant traveling as an Army brat gave her an enormous appreciation for the selflessness of our service members. Nancy admires, from firsthand experience, what our military and their families go through to protect our freedom and preserve liberty.

AN UNLIKELY STORY
Nancy is from a family of achievers. Her father was an US Army general and two of her siblings graduated from West Point. While Nancy is proud to be part of such a rich tradition, she often jokes that she did not receive the same gene as her siblings. Nancy freely admits that she found school very challenging.

While Nancy may not have been the best student, she did enjoy swimming and running and embraced athletics as a release from the daily grind. But without the best track record in high school or a clear idea of her direction in life, Nancy began taking courses at a community college upon high school graduation. Nancy eventually became an administrative assistant for a real estate developer, which she credits for seeding the love of business and technology that she maintains to this day. This period in life also taught Nancy a little about life and helped reinforce the work ethic instilled in her by her parents and built a level of confidence in her that she still draws on today.

She also credits this time in her life with bringing her closer to God and finding salvation through Him.

Eventually Nancy decided she would focus on earning a four-year degree. A new and meaningful chapter in her life was about to begin.

THE CITADEL
In the summer of 1996, The Citadel opened its doors to women and Nancy took a bold step—she simply hopped in her car and drove to The Citadel to pick up an application. The next day, she submitted it.

A few days later, Nancy was accepted as one of the first women ever to enter the Citadel's ranks as a "knob." Nancy took the plunge and joined the Corps of Cadets, eager to follow in her father's footsteps.

Nancy graduated as the first woman from The Citadel's Corps of Cadets in 1999 with magna cum laude honors. She earned a degree in Business. Nancy eventually pursued a master's degree in journalism and mass communication from the University of Georgia's School of Journalism, focusing on public relations.

SMALL BUSINESS OWNER
Nancy's first job out of college was with Accenture, one of the world's largest management-consulting firms. As a consultant, her clients have included everyone from start-ups to multi-billion dollar, publicly-traded entities representing a plethora of industries.

Nancy married her husband Curtis in 2004. When she had her first child, Miles Emory, Nancy decided to become a stay-at-home mom. During this time she began working on a few public relations and marketing projects to stay engaged. Before her second child, daughter Ellison Anne was born, Nancy started a small consulting business: The Mace Group.
The Mace Group has provided public relations and marketing to companies of all sizes and from multiple industries over the years. Some of her recent political clients have included Senator Tim Scott, Congressman Mick Mulvaney and SC State Senator Tom Davis.

An accomplished businesswoman, Citadel graduate, proud South Carolinian and most important to her—a wife and mother—Nancy resides in Charleston with her family.

"The only way to change Washington is to change who we send to Washington," says Mace, adding "Washington is out of touch, voters are frustrated. They're looking for someone authentic."
You can also follow Mace on Facebook or Twitter.  Send her some money.  If you live in South Carolina, give her a good hard look.  Tell your friends and family in South Carolina to check her out.
Primary season is going to be FUN.