Tillis: No real difference between me and my #NCSEN opponents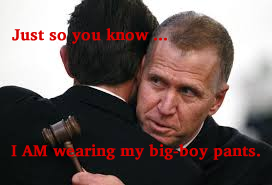 Yep. That's what he told The Cumberland County Republican Women's Club on Saturday.   Okay, Mr. Big Boy Pants™, then why are YOU running? 
I disagree with his assertion there.  I think there are BIG differences between Tillis and the rest of the field.  He's the only candidate in the field who appears to be using his day job to shake down people for campaign contributions. (It's illegal to accept campaign contributions to your legislative campaign fund from people with business before the state while the legislature is in session.  It's NOT illegal to accept them for your US Senate race while the legislature is in session.) 
I don't believe any of the other Republican candidates have been caught in blatant pay-to-play schemes, either.
Greg Brannon and Heather Grant spend their days healing people physically.  Mark Harris spends his days preaching and trying to heal people spiritually. 
Harris and Brannon, Tillis' two nearest competitors, have more formal education than Tillis does. They both have doctorates in their respective fields, while Tillis has a bachelor's degree from an online college.
Tillis is the only GOP candidate I am aware of who tried to enact a state health care exchange for ObamaCare.  (Thank GOD for the NC Senate.)
Tillis claims his "experience" sets him apart from his opponents.  Bill Frist of Tennessee, in his two terms in the Senate, got elected Senate majority leader.  He had never held political office prior to his terms in the Senate.  He worked as a physician in Tennessee.
Lauch Faircloth, when he was elected to his single term in the Senate, had no prior elected office experience.  Jesse Helms had two non-consecutive terms on the Raleigh City Council decades prior to moving up to the US Senate.  
Tillis spent time as a technology consultant with a major corporation prior to being elected to the Cornelius Town Board and the North Carolina House.  Neither Greg Brannon nor Mark Harris have been elected to anything.  Brannon has built a business from the ground up and has been on the front lines of health care delivery — a HUGE issue in America right now.  Through his medical missions in Asia, Latin America, and Africa, Brannon has seen a lot of the world's trouble spots FIRST HAND.  Harris — as a veteran pastor — has been on the frontline of a lot of social and spiritual struggles.  
Thom Tillis has more elected office experience than Brannon and Harris.  But it can be argued that both Harris and Brannon have more REAL-WORLD, REAL-LIFE experience than Tillis does, and can bring a perspective to the table that is much needed in DC.