#NCSEN: Spanish firm picked to develop & manage Thom's tholl road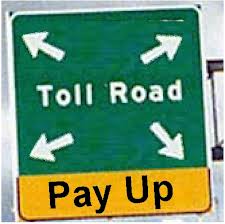 Yep.  The word is out:
The creation of toll lanes on Interstate 77 north of Charlotte took a big step closer to reality after the N.C. Department of Transportation announced Friday it has picked a bidder to build the 26-mile road expansion.

Pending a final review, DOT officials said, Cintra Infraestructures S.A. will begin work on the toll lanes as early as December.

"This is a major step," DOT spokeswoman Jen Thompson said Friday. "It makes it closer to being finalized."

The project will be a public-private partnership, a new type of road funding in North Carolina. State officials say North Carolina will contribute $88 million toward the $655 million project, with Cintra paying the rest. In return, Cintra will receive toll revenues for 50 years.

"Innovative funding solutions like this one are vital to keep up with growth and infrastructure," said Mike Holder, chief engineer with the DOT.

By 2018, state officials say, motorists will have the choice of driving north into Iredell County on regular lanes or what the DOT calls "managed lanes."

Cintra Infraestructures, based in Spain, is among the world's largest private developers of roads and other forms of transportation infrastructure. The company specializes in toll roads and has built the Chicago Skyway and the Indiana East-West Toll Road.

State officials said last month they had four bidders for the project.

The idea of having toll lanes on I-77 from the Brookshire Freeway north to Exit 36 in Mooresville has not been warmly received by all. A group calling itself Toll Free NC has been marshalling opposition to the plan. Its leaders say motorists will be surprised at the tolls, which they claim could range from $5 to $16 each way between Charlotte and Iredell County.

Toll Free NC refers to the I-77 toll lanes as "Lexus Lanes."

State officials said they have not decided on the cost of the tolls, but they say the fees will vary depending on the time of day and the density of traffic. Vehicles carrying three or more passengers, motorcyclists and buses will be exempt from the tolls.

Under the plan, one lane will be added to I-77 in each direction from the Brookshire Freeway to Exit 28 in Cornelius. In addition, the current High Occupancy Vehicle lane will be converted to a toll lane. That will leave, for the most part, two nontoll lanes and two pay-to-drive lanes. One toll lane will be added in each direction from Exit 28 to Exit 36.
So, we'll be paying a toll on a lane that we've already — allegedly — paid for with our gas taxes ????  Holy cow.
A new bridge will also be built to control the traffic moving from I-77 to the Brookshire Freeway.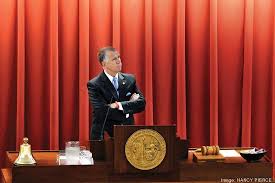 This is another example of a phenomenon that amazes me.  A competitive bidding process has found that the most-cost-effective option is bringing in a massive corporation from Spain?  The government does the same type of thing at military bases like Fort Bragg.  Firms from New York, New Jersey, and Massachusetts regularly come down to North Carolina and beat out local firms for work on-base.  How does that happen?  
One theory — a flawed preliminary design.  These competitive bidding scenarios only require that you quote exactly what you see — even if it is wrong and totally in conflict with code.  As soon as the contract is awarded, the change orders start flying and the price sky-rockets.  There are plenty of contractors out there making a fortune — at our expense — playing this game.
Some may dismiss this story as something only for North Mecklenburg to worry about.  Well, McCrory's DOT board has been publicly mulling installing toll roads all over the state.  Thom Tillis has said toll roads are the best idea he knows of for financing road construction.   We've got an astronomically-high gas tax.  Now, on top of that, you will get the privilege of shelling out even more in toll money to pay for road construction that your gas tax payments were supposed to be covering.
Does anyone else have concerns about turning over control of an asset of the people of North Carolina to a foreign-based corporation for 50 years?  Wake up, folks.  This will be heading your way soon.  The Rs and the Ds in Raleigh and DC are not going to cut back and look for savings to pay for necessary projects.  They will keep bleeding us dry to buy our votes to keep them duly employed in this mess of an economy we empowered them to create.