The state budget impasse: It's ALL Pat's fault !!!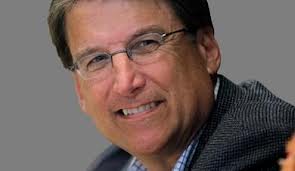 It's amazing.  Bill Barber, Chris Fitzsimon, and their echo chambers at McClatchy and WRAL have been trying to sell us that a hard-right revolution is sweeping through Raleigh — making school kids dumber, taking food out of senior citizens' mouths.     THAT kind of thing.  
The NCGOP has the governor's office, the lieutenant governor's office, and super-majorities in the General Assembly.  The Democrats can't stop ANYTHING the Republicans want to pass.  But the "conservative revolution" couldn't agree on a budget prior to the beginning of the fiscal year on July 1.  So, the General Assembly had to pass a continuing resolution to keep paying the bureaucracy's bills.  We correctly blasted this move as a failure of leadership on the part of NCGOP leaders in Raleigh. 
Now comes state Sen. Tom Apodaca who labels Gov. Pat McCrory as a major impediment in the effort to win agreement in the General Assembly on a budget:
[…]Senate Republicans aren't happy with the pace of negotiations. Senate Rules Chairman Tom Apodaca, R-Henderson, removed all of the bills on Thursday's floor agenda that originated in the House and didn't say when they'd return. Apodaca called his decision to hold back House bills an "incentive" to get House members to work out agreements.

"We need to get things moving here on tax reform and the budget and we'd just like to clear the table for everybody to have opportunity to work on those two items," Apodaca told reporters. "We've got to get something moving here."

Apodaca suggested that part of the negotiating struggles existed because of the McCrory administration. Senate Republicans and McCrory haven't seen eye-to-eye on several key matters this year.

"It's kind of difficult to negotiate with three bodies instead of two," he said. "The House and Senate seem to do a pretty good job. Sometimes it's difficult to have to negotiate with the governor's office."

McCrory, working on his first state budget as governor, said in an interview Wednesday that he's told Republican legislative leaders there are certain tax changes he wouldn't support. The Republican governor also has said he wants to make sure any spending plan has sufficient revenue to run state government. Both the House and Senate plans would reduce the growth of tax revenue through mid-2015 by hundreds of millions of dollars.[…]
Republicans in Raleigh (Folks on Jones Street AND Blount Street) need to decide if the party platform and their campaign promises mean more than their love of managing and spending other people's money.