The "Hamlet" of Harnett STILL publicly playing footsie with the media over #NCSEN race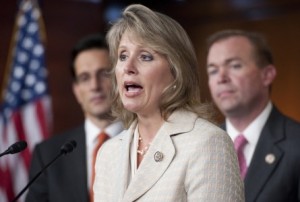 Will she, or won't she?  (WHO CARES ????) 
McClatchy and WRAL — and the political chattering classes — apparently are concerned about whether US Rep. Renee Ellmers, conqueror of  Bobby "Boom Boom" Etheridge, will try to jump from the House to the Senate.
I'm not buying this whole mulling-a-Senate-run thing. (We're based in the Second District, and *blessed* to be repped by Lady Renee.)  She's been making moves here locally suggesting a run for reelection to the House.  She's got one heck of a fight waiting for her in the May 2014 GOP primary for the Second District seat.  A heavyweight, prominent Republican in the district is quietly putting together a campaign organization to take on Ellmers in the primary.  (This candidate has confirmed all of this for me, but has not authorized me to go public with their name, just yet.) 
A June poll by Public Policy Polling found Ellmers with a 14 percent FAVORABLE rating among voters and a 23 percent UNFAVORABLE rating.  (64 percent were "not sure" about Ellmers.) 
Another thing that makes me believe she's not making a move for the Senate is what she told Roll Call:
"I got a chance to meet Jim Cain, and I want to sit down with him," Ellmers said. "I think he's interesting.  There are some positives there."
Cain is a prominent, Raleigh-based GOP fundraiser who served as an ambassador under George W. Bush and is former president of  The Carolina Hurricanes.  His name gets thrown out there every time political buzz kicks up about the field for a major GOP primary campaign.
The Ellmers quote gives some credibility to the whispers I've heard out of The Triangle about Cain.  I understand some Establishment-types in Raleigh, concerned about the viability of Thom Tillis, are touting Cain as a serious Plan B.