*Surprise, Surprise!* Robert Brawley gets primaried.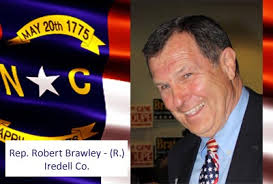 Moore County's Richard Morgan set the standard for hard-nosed vindictive political tactics during his tenure in the NC House.  If a legislator dared to "cross" him, Morgan would personally seek out a primary challenger for said legislator.  One example was the GOP primary for NC House District 98  in 2006.  The incumbent, John Rhodes, had been making headlines by pointing out ethical issues and other malfeasance by Morgan and Morgan's compatriot, Democrat Jim Black.(Rhodes' efforts led to the imprisonment of Black and Morgan's own primary loss in 2006.) 
That year, Morgan publicly sought out primary opponents for his GOP critics in the NC House.  Early in that effort, a fresh-faced challenger named Thom Tillis "mysteriously" popped up District 98.  Morgan and Black aided and abetted the anti-Rhodes effort, and Tillis ended up winning the primary.
It appears Tillis learned well from his political mentor.  There has been some uproar over Tillis' involvement in GOP primaries in eastern North Carolina (particularly the races of former Rep. and now-Senator Bill Cook).
In May, a dispute between Tillis and state Rep. Robert Brawley went public.  Brawley leveled a number of ethics accusations against Tillis, and ended up leaving his committee chairmanship post.  (A recent court decision added credibility to some parts of Brawley's case.)
McClatchy broke the story last night about a Mooresville businessman's announcement he would primary Brawley in 2014.  (It's interesting The  N&O got it before the candidate's hometown paper did.  Clearly, someone was sending an implicit message to a very specific audience in our state capital.) 
The challenger, John Fraley, hits Brawley — surprisingly — on the issue of ethics:
"It's time to put an end to old-style, backroom politics and instead work to solve problems. That's what my candidacy is all about, to run a vigorous campaign to win."

Fraley said he is providing $75,000 to his campaign as he begins raising funds.

Fraley leveled a criticism at Brawley for introducing legislation to remove the ban on lobbyists giving gifts to lawmakers. "My opponent's bill to allow lobbyists to give gifts to lawmakers would benefit only one resident of Iredell County: Him," Fraley remarked. "I'm running to help create jobs, enhance education for our children and improve the lives of all the citizens of Iredell County, not just a chosen few."
Hmm. If I didn't know any better, I'd say Brawley wants to legalize bribery.  Let's give Brawley a chance to speak up about that legislation: 
 A veteran Republican House lawmaker has filed a proposal to allow lobbyists to once again give unreported gifts to state lawmakers in North Carolina.

House Bill 640, filed by Rep. Robert Brawley, R-Iredell, would roll back many of the ethics reforms passed by state lawmakers in the wake of the House Speaker Jim Black scandal of 2006.

The measure would repeal bans on gifts from lobbyists to lawmakers and relax requirements that lobbyists disclose such gifts.

Brawley returned to the state legislature in 2013 after having served from 1981 till his retirement in 1998 – well before the current gift bans were enacted. He's currently a member of House leadership, serving as chairman of the Finance Committee, an influential post that would almost certainly attract lobbyists' interest.

Brawley said via email that required ethics classes on gifts and disclosure requirements "are useless for anyone without internal ethics anyway."

"They only tell you the law. They do not guarantee integrity," he said. "What makes you think a person without ethics is going to obey a law anyway?"

Brawley also said in his message that the gift ban and other ethics laws pertaining to lawmakers and lobbyists "are an impediment to meeting and exchanging ideas and information." 

"Yes, that often takes place over dinner, but there is more influence in who is nice to each other than there is in the exchange of money," he wrote. 

"Those who feel left out because their threats and intimidation did not help them might learn from the old adage about honey," he added.

"I believe in the integrity of people, including legislators and, in over 30 years of serious involvement, have not seen any situation that these laws would have prevented or improved," Brawley said.