New #NCSEN poll: Hagan STILL leading Tillis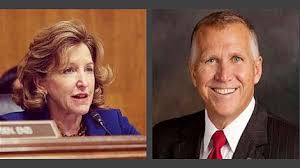 A week back, leftist pollster PPP came out with a poll showing the state of the race as:  Hagan 39, Tillis 34, Haugh 11.  Of course, folks noted PPP's ideological bias — and other concerns about their methodology — in poo pooing their findings.
Now, right-leaning NC Civitas has released results on the race that are not so far away from PPP's findings: Hagan 42, Tillis 36, Haugh 9. (The  poll of 600 registered North Carolina voters took place June 18, 19 and 22, and had a margin of error of +/- 4 percent.)   Civitas' May poll on the race showed: Tillis 39, hagan 36, Haugh 8. 
Tillis fans shouldn't panic just yet.  In 2008, Hagan didn't overtake incumbent Elizabeth Dole until late in the campaign.  But the Democrats had the excitement of the Obama campaign to aid their turnout, while the Republicans were being dragged down by the disastrous McCain effort.   What comparable factor is out there in 2014 to excite the GOP base and pump up its turnout? 
i talked with a well-placed NCGOP insider after the release of the PPP poll, and here was their assessment:
"I am not all that worried about the spread between Thom and Kay.  What worries me is that eleven percent.  That number ought to be bothering a lot of the political types on our side."
There is precedent for Libertarian candidates polling in the high single digits and low-double digits in North Carolina campaigns.  At one point in the 2012 gubernatorial race, the Libertarian candidate was polling in the high single digits.  She finished in the low single digits — where most Libertarian candidates tend to finish. (But the polling spread was much wider between Dalton and McCrory than it is between Hagan and Tillis in 2014.)
 Folks who would consider Libertarian candidates should be easy pickings for the GOP.  However, that PPP poll shows Hagan edging out Tillis 42-38 as the second choice for Haugh voters.  
Let's look at some of the recent findings from the Civitas poll. With respondents who were firm in their candidate choices, Hagan led Tillis and Haugh 36-30-5.  In their May poll, Civitas polled a head-to-head between Tillis and Hagan and found the GOP challenger leading 46-41 with 12 percent undecided.  Their June survey found things reversed, with Hagan leading her GOP challenger 47-43 with 9 percent undecided.
In the June Civitas survey, respondents who thought it was important to elect a Republican to check President Obama and regain a GOP majority edged out those who thought it was important to elect a Democrat to help President Obama by a margin of 49-45.  It sounds like voters need to hear more than "replace Harry Reid with Mitch McConnell."
In the June Civitas poll, Hagan outpolls Tillis in every region of the state except her home in the Piedmont Triad (Tillis 40, Hagan 38).  Hagan leads Tillis in his home region of Charlotte by a margin of 48% to 35%.