NCGOV 2016 Polls: McCrory, Cooper in dead heat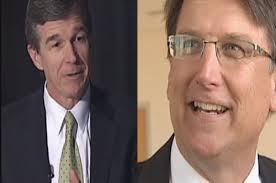 We've been hearing quite a bit of behind-the-scenes grumbling from GOP insiders and activists on both sides of the Raleigh beltline. A new poll from The Civitas Institute may be illustrating some of that.  The numbers?  Cooper 44, McCrory 43.   The poll has a rather high margin of error, +/- 4 percent, and was taken between June 18 and 22.
From what I hear from some old Democrat friends in southeastern North Carolina, Cooper should not be celebrating just yet.  A number of well-placed Dem sources in that part of the state tell me a rather serious, salient effort is in motion to put together a 2016 gubernatorial run for retiring congressman Mike McIntyre (D-Lumberton).  McIntyre had quite a bit of success winning conservative-leaning and church-going voters during his 18 years in DC.  He barely won his 2012 reelection bid in a new gerrymandered district that removed his hometown from his district. Seeing the writing on the wall, McIntyre decided to retire — at a rather young age and with a mid- to high-six figure balance in his campaign account.  My Democrat friends tell me there is a substantial bit of dissatisfaction with Cooper in the southeastern part of the state — even among elected Democrat sheriffs, prosecutors and judges.  There is a strong possibility that Cooper may have to navigate a bruising gubernatorial primary before getting a shot at McCrory.
For what it's worth, Public Policy Polling released results on June 19 showing McCrory leading Cooper 44-42.  What should be alarming for McCrory in that survey is his 39-45  favorable/unfavorable rating.  The poll was conducted June 12-15 and involved 1076 respondents.  The margin of error was +/- 3 percent.
Regardless of WHO the Democrat gubernatorial nominee turns out to be, this polling should serve as a wakeup call to Team McCrory.  He won his November 2012 race with 55 percent of the vote.  Nearly two years later, he's polling at 43-44 percent.  THAT is the wrong direction.  There is plenty of time to recover — but a serious effort needs to get underway YESTERDAY.