Mr. Goodmon's pet slander monkey smears Jerry Tillman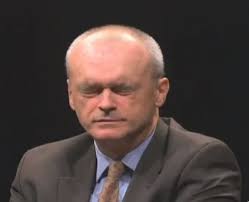 Chris Fitzsimon should thank the pagan idols he worships for WRAL owners Jim and Barbara Goodmon.  If it weren't for their A.J. Fletcher Foundation, ol' Chris would likely have a tough time obtaining gainful employment.
Thanks to the Goodmons' platform, you get a taste of Chris from his syndicated newspaper columns, his radio commentaries on WRAL, and his regular appearances on the televised Goodmon vehicle NC Spin.  Chris has an amazing talent for taking ANYTHING — and turning it into some kind of bigotry against somebody (i.e., bald-headed, rapid-blinking metrosexuals).
In his latest blog post, Fitzsimon goes for a two-fer, smearing both House speaker pro tem Skip Stam and Senate majority whip Jerry Tillman as bigots: 
[…] The last couple of weeks have also brought reminders of how out of touch the folks currently running the General Assembly are with most people in North Carolina.

Rep. Paul Stam received a torrent of well- deserved criticism for suggesting during a debate about prohibiting charter schools from discriminating against gay students that pedophilia and bestiality were also sexual orientations.

House Speaker Thom Tillis said in a statement that Stam's comments were not helpful—which is almost as ridiculous as Stam's bigoted claims.

They were far more than not helpful, they were disgusting and offensive, and it's too bad that Tillis didn't take the opportunity to point that out and distance himself from them.

Then there's Senator Jerry Tillman, who said last week during the debate about the confirmation of a questionable appointee to the Industrial Commission that Strom Thurmond, who ran for president in 1948 as the leader of the segregationist Dixiecrat Party, was a "great American."

Here's one of Thurmond's more notable quotes from that campaign.

There's not enough troops in the Army to force the Southern people to break down segregation and admit the Nigra race into our theaters, into our swimming pools, into our homes, and into our churches."

It's pretty clear what was on Thurmond's mind when he uttered those remarks. The question is what's a leader in the North Carolina Senate in 2014 saying by praising him?


Really?  We're going to moan about actions of a South Carolina politician from 1948 during a 2014 debate on the North Carolina Industrial Commission?  We're going to leave out Thurmond's heroism in World War II and his 46 years representing South Carolina in the US Senate? (I don't hear a peep from Chris about the late West Virginia Senator Robert C. Byrd (D) who actually was a card-carrying member of The KKK.)
Let's look at Tillman's comments in context, as captured by that bastion of right-wing extremism The N&O: 
Earlier in the evening, the Senate gave final confirmation to two nominations from Gov. Pat McCrory. Linda Combs was confirmed as the new state controller and Charlton Allen was approved as the newest member of the N.C. Industrial Commission.

Allen's pick sparked a protest from Democratic lawmakers, who renewed concerns about his past and opposition to a minimum wage.

"I believe such a person is not suitable to be representative of employees," said Sen. Josh Stein, a Raleigh Democrat.

Sen. Floyd McKissick, a Durham Democrat, cited concerns about Allen's past and racially tinged writings from his college days at UNC-Chapel Hill that were detailed in a recent Indy Week story. He said he wanted Allen to "repudiate" his previous statements and invoked the names of former South Carolina Sen. Strom Thurmond and Alabama Gov. George Wallace, saying even they acknowledged they made mistakes in their past.

The references drew a sharp retort from Sen. Jerry Tillman, an Archdale Republican who called Thurmond "a great American."

"To bring those two up in this conversation I'm a little bit appalled," he said.

[Senator Harry] Brown, too, came to Allen's defense, saying if the lawmakers were held accountable for the "crazy things" they did in college, "it seems to me we would all have problems in this place."
Tillman is right.  It IS appalling to try to wrap some unfortunate comments from two deceased politicians around the neck of a political nominee who wasn't even alive when those unfortunate comments were made.  I can't find any evidence of Allen — or Senator Tillman, for that matter — standing in a school doorway to stop black students from attending class.
For those of you who don't know, IndyWeek is a publication very popular with the Chapel Hill-Carrboro crowd.  The article in question discusses the uproar over a column in The Carolina Review — a conservative publication founded by then-UNC student Allen.  The leftist toadies who dominate that Orange County commune went b@t$h!t crazy over a caricature on the cover of one issue that portrayed a Jewish candidate for student body president with devil horns.  The leftist mob made so much noise that the administration was dragged in to apply sanctions to The Review.  Ah, Chapel Hill.  *The HOME of free speech.*

IndyWeek even went as far as trying to pin the appearance of swastika graffiti on campus on Allen and his cohorts at The Review.  Conservatives in Chapel Hill are a minority.  I thought lefties were all about protecting the rights of the minority.  Judging from the antics we've observed emanating from that burg, your rights get protected only if you agree with the leftist lynch mob. 
Samuel Johnson once mused that "patriotism is the last refuge of a scoundrel."  For this politically correct era — the Obama era — we can amend that quote to say "racism is the last refuge of a scoundrel."  If the facts aren't on your side, just tar your opponent as a bigot.  *That'll shut 'em up.*  SMH.