#NCGA: Taking care of (your own) business?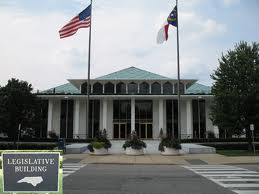 Jamie Boles is a long-time, respected funeral home director here in Moore County.  He got elected to the state House in 2008 by primarying an incumbent legislator who he had — just months earlier — co-sponsored  a fundraiser for.
We don't see or hear a whole lot from Boles in the mainstream media. So, I decided to wander over to the NCGA web site to see just what our man in Raleigh has been up to this year. What immediately jumped out at me are the bills he sponsored dealing with regulation of his line of work —  the funeral industry. 
On April 10 of this year, Boles and Democrat Kelly Alexander (also a funeral director)   filed HB 808 aimed at merging the state cemetery commission and the funeral service board.   .  The legislation — among other things — (1) amends the makeup of the state regulatory board, (2) expands the scope of facilities / entities that can be regulated, and (3) exempts cemeteries owned by churches or local governments.
On January 23, Alexander introduced HB 660 which dealt with funeral processions.  (Boles came aboard as a primary sponsor on April 10.) The bill (1) does away with the need for human involvement in traffic control (2) ensures state regulations overrule local ordinances, and (3) limits the liability of funeral homes for traffic mishaps related to funeral processions.
On May 9, Boles sponsored HB 811 which was aimed at amending the state's practice of funeral service laws.    Among other things, the bill (1) does away with re-inspection fees for funeral facilities that have "issues", (2) softens punishments for funeral professionals who mess up (i.e., reduced fines, "probation"). and (3) makes changes in the administration of pre-need policies.
On May 15, Boles introduced HB 810 aimed at modifying " THE COUNTY POPULATION AND MINIMUM CEMETERY ACREAGE TRACT REQUIREMENTS IN CERTAIN INSTANCES."   The bill contains this one curious provision:  Notwithstanding subsections (a) through (c) of this section, the minimum acreage required by counties with a population of less than 100,000 according to the latest federal decennial census shall be 20 acres of land."
In case you were wondering, Moore County — in the latest census — had a population of 90,302.  
On one hand, I think it's great to have business people serving in the North Carolina General Assembly.  It's a good thing to have people there who can speak first-hand about the effects the state bureacracy has on businesses.  
On the other hand, it comes off as a little hinky to be pushing legislation that appears to benefit a business or business venture that you have a financial interest in.