#NCGA #NCSEN: Taking care of (HIS) Business?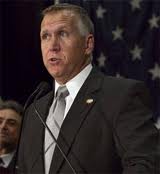 According to official state records,  House Speaker (and US Senate candidate) Thom Tillis and his wife are "owners" of Cornelius, NC-based Aquesta Bank.  Tillis joined the state House in January 2007.  Aquesta was founded in 2007.
In 2007, the North Carolina General Assembly approved a measure mandating that energy providers in the state provide a set percentage of their product from "renewable energy" sources.  Tillis was one of a number of Republicans who joined the majority Democrats in supporting that measure.
In January 2011, Thom Tillis was elected speaker of the state House.   In March, 2011, it hit the media that House leaders were attempting to kill a conservative-promoted measure to eliminate the state's "renewable energy" mandate.  
In June 2011, we got this article:
Aquesta Bank is looking to make a line of business in lending for solar energy projects.

The four-year-old bank has always been enthusiastic about solar energy. It has solar panels installed at its Cornelius headquarters office on Jetton Road and its latest branch on Brawley School Road.

But now it intends to be a lender for solar projects. Its first project is $3 million of construction and permanent financing for the nearly 1 megawatt Avery Solar project that O2 Energies Inc. is building on 6 acres near Newland. The $5 million solar project is on a Christmas tree farm in Avery County.

Aquesta CEO Jim Engel says he has assigned Brian Kiser, one of seven loan officers at the bank, to be the solar business expert.

"He has to learn the ins and outs of renewable-energy credits and know what legislation is brewing, all of those things," Engel says. "To be a sound lender, you have to know the business you are lending into."

Relatively few U.S. banks are involved in solar and renewable-project lending. Bank of America Corp. will be a financing partner in a $2.6 billion venture announced this week withPrologis and NRG Energy. But foreign banks are well ahead of their U.S. counterparts in solar-energy lending.

Engel says that is part of why he sees the solar space as an opportunity for his bank. There is a growing cadre of solar developers in the region, he says, and that creates possibilities for a relationship-oriented bank such as his.

With the loan payments backed by long-term power-purchase agreements — usually with highly stable utilities — the business looks stronger than commercial real estate lending in the current weak real estate market.

In the Avery deal, for instance, the permanent financing will have a 10-year term. O2 has an agreement for the Tennessee Valley Authority to buy the full power production of the project for 10 years.

"Once a project is built, there is relatively little risk in repayment," Engel says. "That's why it is important to know the developer and to be sure the developer has skin in the game in terms of his own investment."

Joel Olsen, founder of O2 Energies, says community banks in Germany led the lending industry into financing for solar, and the same could happen in the United States.
Let's see if I have this straight.  A bank OWNED by the House speaker and his wife is making a big deal out of investing in solar energy projects.  The speaker votes to implement renewable energy mandates AND leads an effort to kill a repeal of those energy mandates — which, if successful, could have led to a drop in energy delivery costs.
 The state mandate codifies a demand for "renewable energy" production.  A bank OWNED by the speaker and his wife is making investment in renewable energy a key element of its business strategy.  Hmmmm …