NC-03: Dacey's own #'s show a loss to Jones AND somebody named UNDECIDED.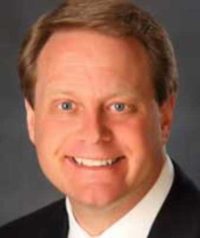 There is an interesting strategy being put forth by NCGOPe types this cycle.  Put a lot of bad news out there, and demand MO' MONEY.
We saw Matt Bales with the NC House GOP caucus doing it.   Now here comes Indian casino lobbyist (and GOP congressional candidate) Scott Dacey and his campaign guru Paul Shumaker: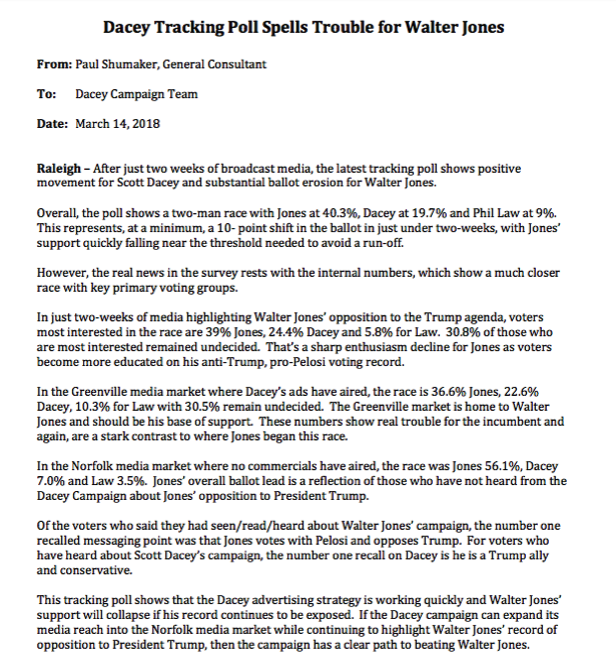 Okay.  Let me do a little translation for you.  Team Dacey did something called a "push poll"  — where you call potential voters and feed them slanted, negative information about your opponent with the hope of driving your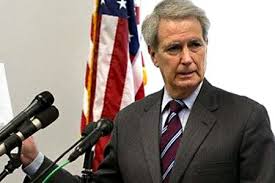 opponent's approval numbers down.  This can be confirmed by the phrase in the second to last paragraph: "[…] the number one recalled messaging point was that Jones votes with Pelosi and opposes Trump."
According to Conservative Review,  Walter Jones (score of 86% or B) is the third most conservative member of North Carolina's US House delegation.  He is behind only Ted Budd (100% or A) and Mark Meadows (95% or A).  Shumaker's other congressional candidate engaged in a heated primary, Robert Pittenger, gets a grade of 55% (F) from Conservative Review. 
Mark Meadows has campaigned with Jones.  I can't imagine him cheerleading for someone who would simply fight Trump and back Miss Nancy.  
Let's go to paragraph 2 of the Shumaker memo.  Dacey's polling shows Jones with 40.3%, Dacey at 19.7% and Law at 9%.  That leaves a roughly 31% undecided / no opinion contingent. So, Undecided is pulling nearly twice the vote of Shumaker's candidate.  Also, Shumaker's candidate Dacey is losing by 20 points. (*And all THAT, apparently, is a good thing.*)
The Shumaker memo describes Jones's numbers as "falling near the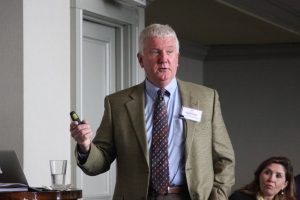 threshold needed to avoid a runoff."  The legislature, this past session, reduced the threshold from 40% to 30% to avoid a runoff.  So, even if you take the findings in this memo seriously, Jones still has a ten point (or more) cushion.
In the "Greenville media market,"  Team Dacey's polling shows a 14-point lead for Jones and a 30.5 percent undecided contingent.  One problem: The "Greenville media market" includes pretty much all of eastern North Carolina — which includes the 1st district represented by Democrat GK Butterfield.  Pitt County, of which Greenville is the county seat, is pretty much split in half between the 1st and 3rd districts.   Sooooooo — polling the "Greenville media market" includes an awful lot of people who can't even vote in the 3rd district race.   Even with that glaring problem, Dacey's numbers are still not great.
The Shumaker memo takes a stab at the "most interested" voters.  The margin there?  39.9% for Jones and 24% for Dacey.  And 30.8% UNDECIDED.
After all that — keep in mind that these numbers follow a roughly $250K media buy by the Dacey campaign.  Which appears to have resulted in a consistent 30% undecided finding and third-place Dacey finish (behind Jones and UNDECIDED).