Readin', 'Ritin, and RE-EDUCATIN' …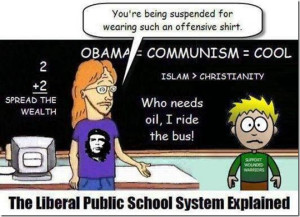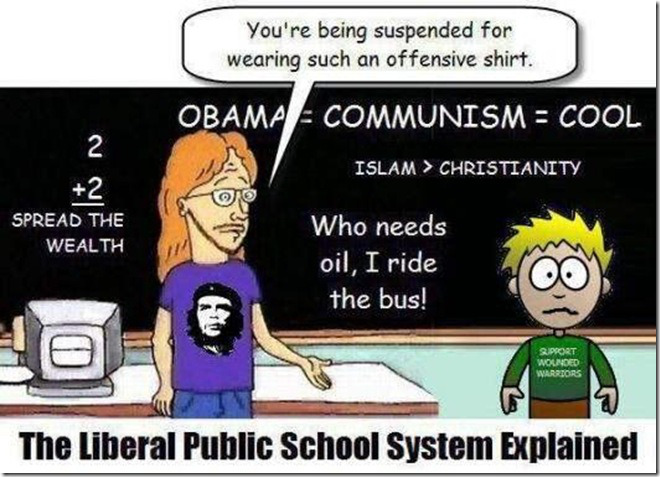 It was, um, *inspiring* to see all of the woke leftists and their driveby media comrades fawning over all those little darlings walking out of class this week to protest GUN VIOLENCE.  (I mean, c'mon.  Show of hands.  WHO is FOR gun violence?) 
*And I am suuuuuuuuuuure it took some arm-twisting to convince the lil' darlings to walk out of class.* (I know it didn't take much for us back in my high school days.) 
Listening to all of these snowflakes, you'd think Elmer Fudd and his buddies were out there partaking in open season on high school freshmen.  Never mind all of that (*AHEM*) evidence out there that school shootings are hardly the norm.
Lefties never miss a chance to use uninformed kids to push their sick agenda.  It can be gun control, anti-war, tax increases, abortion, or gay rights.  What grown person in their right mind is going to challenge or debate a 14 year old?  Or an eight year old?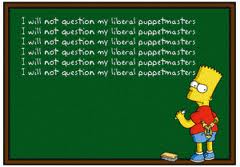 Some Connecticut parents have hired an attorney to guide their complaints about the school-blessed protest:
[…] In an email sent to Breitbart News, the parents – who wish to remain anonymous – argue the student walkout might appear to be a fairly innocuous First Amendment event to honor the students killed in the Parkland, Florida, shooting and to advocate for gun control.

However, the parents add, the decision involves issues concerning "adherence to law and policy, the manipulation of minors, the misuse of tax dollars, and indoctrination and political activism during school hours."

They are especially concerned the student walkouts were organized by the Women's March, an anti-Trump organization with ties to radical anti-Semites such as Louis Farrakhan.

In an interview with Breitbart News, the parents' attorney, Deborah Stevenson – with expertise in constitutional and education law – spoke about the parents' issues with their school district's decision to allow students to participate in the walkout.

On March 12, Stevenson sent a letter to the New Milford Board of Education, superintendent Joshua D. Smith, and New Milford High School principal Greg P. Shugrue – which she made available to Breitbart News. Stevenson wrote:

My clients have asked me to notify you that this event violates state law, on the basis that state and local public funds are being used improperly to advocate for a political issue and to influence how voters will vote. Because it violates state law, we demand that the New Milford Public School District's Superintendent and Board of Education immediately cancel the event, and rescind any association or prior involvement in it.

In addition to citing the Women's March Network or Women's March Youth Empower as an organizer of the student walkouts, Stevenson added that "the event is promoted by the Action Network, which touts itself as 'an open platform that empowers individuals and groups to organize for progressive causes.'"

"Thus, it is promoting the event for partisan political purposes, to influence voters to one side of an issue currently before members of the public," she wrote. "This event is not simply a 'student initiated remembrance.' It is an event aimed at engaging students in a political 'movement' to affect 'change' and to encourage them to vote for that 'change.'"

On Wednesday, Michael P. McKeon, attorney for the school district, wrote to Stevenson, in a reply that was made available to Breitbart News, that the school board "has absolutely no connection with" the Women's March Network and the Action Network.

"To the extent that either group has referenced the New Milford Public Schools on their websites or in any other manner, that is neither at the behest of nor with the consent of the Board," McKeon argued, adding:

Furthermore, the mere fact that some outside organization unilaterally or in cooperation with some third party over whom the Board has no control lists, cites, or otherwise references the Board does not transform the Board into its agent or representative, nor does it impute to the Board any perspectives, philosophies, or political agendas such organization might have.

McKeon further asserted that, as Smith and Shugrue indicated in a letter to parents, "Students at NMHS have indicated that they too want to make a statement and be a part of the movement."

In the letter, made available as well to Breitbart News, Smith and Shugrue wrote that the district's middle school students "also expressed an interest in participating in the broader conversation," and would have a "grade appropriate, optional opportunity that focuses on civic participation."

"Clearly, this morning's activity is student initiated and student driven," McKeon said, dismissing all of the parents' issues.

Stevenson, however, told Breitbart News that Connecticut, and likely many other states, has statutes pertaining to the use of taxpayer dollars to fund political protests. She said it "defies logic" how McKeon "can make an argument that the walkout is not connected to a partisan or political issue."

Breitbart News asked whether school districts could be faced with further litigation if they do not allow students who wish to hold walkouts for other causes to do so.

 "That's absolutely a valid concern," she said. "There are equal protection laws as well, and if you are allowing one group to have free speech on your campus for a partisan purpose, then, obviously, it's discriminatory not to allow an opposing point of view. So, it absolutely does open up the school districts to litigation and all sorts of other problems."
Chicago Republicans are also going to the courtroom to protest the public school system's blessing of the national walkout.