NC-03: GOP challenger Griffin wants to offer "conservative choice" to voters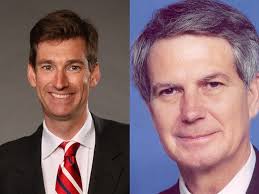 Year after year, challengers from both parties have come after incumbent Walter Jones with both barrels blazing.  And year after year, Jones keeps going back for a new term in Congress.  The tales of his political demise seemed to be incredibly premature. 
Jones' 2014 GOP primary challenger, Taylor Griffin, says he believes this is the year that Jones' luck runs out:
"This is nothing personal against Walter Jones.  When he first ran, I supported him. He put together a pretty good voting record during his early years in the House.  But things changed. According to National Journal, he became one of the most liberal Republicans in the House. Eastern North Carolina is a pretty conservative place.  I believe they need an authentic conservative representing them in the House.  Not someone who votes conservative right in front of elections, but then goes right back to voting for a lot of spending as soon as he's reelected."
We chatted with Griffin via telephone Sunday evening, and our conversation topics ranged from taxes to spending to the federal debt and ObamaCare.
His Ties To The District.  Griffin is a native of Wilson, North Carolina — which he notes was in the Third District for quite a while prior to the 2011 redistricting.  He said, growing up, he and his family spent their summers in Morehead. Griffin currently resides in New Bern.  (When Jones first ran in 1994, his home was not in the Third Congressional District.)  
After attending college at Appalachian State, he took off for DC to work for Senator Jesse Helms.  From there, he went to work on George W. Bush's presidential campaign. From there, he took a job in the White House communications office — and then moved over to the Treasury Department.  He left Treasury to help co-found Hamilton Place Strategies — a DC based public policy consulting firm.
Establishment GOP influence?  Griffin adamantly denies allegations that Speaker John Boehner and majority leader Eric Cantor are behind his campaign.  He says his campaign has had no dealings with either leader nor any representative of The Republican National Committee nor the National Republican Congressional Committee:
 "I am not about carrying water for someone else.  I want to go to Congress, and do what's best for eastern North Carolina, without owing anybody — special interests, other politicians — anything."
Griffin said the "Boehner aide" IDed as a host of his upcoming DC fundraiser recently departed from Boehner's staff and was actually his (Griffin's)  former roommate.  
Why There Needs To Be A Change.  Griffin says Jones has overstayed his welcome in DC, and has strayed too far from his conservative roots. He points out that Jones promised — when he first ran — to limit himself to 12 years in office.  Jones is currently completing his 20th year in office. 
Griffin also points to Jones' votes FOR Dodd-Frank and AGAINST food stamp cuts as examples of straying. Jones recently won accolades from Tea Partiers for refusing to back the removal of the federal debt ceiling.  The challenger offers this up:
"By the time that vote on the debt limit came around, the federal spending was committed.  The conservative thing to do would have been to vote against the spending AND the debt ceiling increase.  Walter Jones voted against the debt ceiling increase, but he sure didn't offer up much in the way of resistance to all of that spending. Send me to Washington and I am voting against both ends of that equation."
Griffin said the question of the debt ceiling is not exactly a black-and-white decision.  He said, due to all of that committed spending, voting against the debt ceiling increase is like max-ing out your credit card and refusing to pay the bill:
"The time of year we're looking at the debt ceiling would make a real difference for me.  If we're in April — when our revenues are especially high — I think we can do just fine without raising the debt ceiling.  If we're in December or January, our revenues are kind of tight, and we likely don't have much choice.  Committing all of that spending, and then not authorizing borrowing to pay that debt, causes us to default and scares the markets.  We'll get charged higher rates, and things will get even more expensive for us — all in the name of trying to look and sound fiscally responsible."
What does he think should be done to deal with the federal debt?  Griffin said financial pointy-head types are predicting surpluses over the next 3 to 5 years in the federal budget.  He said Congress should use that opportunity to make some substantial payments on the debt —  before the massive retirement of baby boomers, and the ensuing demand for retirement benefits, starts straining the budget again. 
Griffin said Jones' prickly personality has alienated him from a lot of his colleagues on The Hill — making it harder to get things done for the folks back home.  The challenger points to what he sees as inaction — or a lack of success — on issues like reform of fisheries regulation policy and Outer Banks beach driving rules that are important in the district.
ObamaCare.   Griffin was pretty blunt in his assessment of Kay Hagan and Barry Obama's signature piece of legislation: 
"ObamaCare is the worst public policy initiative I've seen in my entire adult life.  It's absolutely terrible. We need to throw it in the trash can and start over."
Griffin says he thinks it is important for Republicans to have a plan to replace ObamaCare.  He believes tax reform and expanded use of health savings accounts are important components to the replacement debate.
Recent reports indicate Griffin is giving Jones a run for his money in the fundraising department.
The primary election will take place in May.