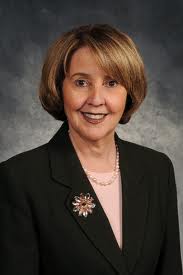 Via our friends at Google, we found this interesting blog entry from 2oo8 on The Greensboro News & Record web site:
Stage name or pseudonym?

If you look up Guilford County's recently-named interim planning director, Nancy Roy, you might find a woman with two names.

Roy goes by "Nancy Fiorillo" in Moore County and everywhere else.

Why the distinction?

"So I don't want to have to spell my name a million times a day," she said.

There is an obvious difference between the two. "Fiorillo" could play more tricks on the ear than "Roy". Roy is the name she carried through much of her professional career. Fiorillo is a name she picked up through marriage.

Either way, 'Scoop welcomes both Nancy Roy and Nancy Fiorillo to the county. And we thank her for picking a name that's easy to spell.

As an aside, Roy is looking for places in Greensboro while she steers the planning ship.

"If you know anybody who has a short term rental, let me know," she said. We hear she's looking around Fisher Park.