Hagan: If we only took time to understand, we'd see there is a lot of GOOD about ObamaCare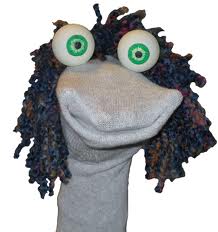 US Senator Kay Hagan — affectionately known in some parts as Chuck Schumer's Sock Puppet™ — found her way out of the sock drawer this week to meet with the slow-pitch softballers on The Fayetteville Observer's editorial staff.
The Observer article misinterprets recent polling — in The Sock Puppet's favor, of course — and presents her 41-42 approval / disapproval rating as some kind of positive.
It was amazing to see how little substance the FO team managed to get out of a sit-down with our junior US senator.  One item of interest that did come out was THIS:
[…] Hagan's votes on two contentious matters could play into the Senate race next year. She voted for the Affordable Care Act — President Obama's signature health care reform law — that remains controversial.

Hagan defended the law, saying pre-existing conditions will no longer prevent people from obtaining health insurance under the new law.

"There's still a lot of questions about it, but I think as people understand more and more about it, there are certainly some good things in the Affordable Act," she said.[…]
Like what?  Is the record number of people being pushed from full-time work into part-time work "a good thing"?  What about the 100 layoffs announced this week at WakeMed — publicly tied to concerns about upcoming "health care reform"?  Or the nearly 1000 jobs cut at Wake Forest Baptist Hospital publicly tied to confronting "the challenges of health care reform."?  What about the Congressional Budget Office's confirmation that ObamaCare will increase out-of-pocket costs for prescriptions?   Is THAT "a good thing"?
I guess it's expecting too much from the FO newsroom's softball team to do a little research and provide a service for their readers by asking some tough questions.