#NCSEN: FreedomWorks + Greg Brannon = Game changer

Tea Party groups across the state and the Brannon for US Senate campaign are quietly lining up supporters to attend a "FreedomWorks BBQ" in Raleigh on Tuesday evening. Sources familiar with the event's back story say that this event can be inferred as a coming-together of the Brannon campaign and the national, high-profile Tea Party-affiliated political organization.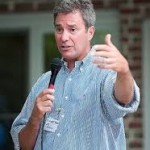 FreedomWorks formed as the Tea Party was just picking up steam in 2009.  It has been a clearinghouse for limited government ideas, and has led the way in educating the public on those limited government principles favored by The Tea Party.   FreedomWorks has also aligned itself with anti-establishment  candidates with limited government platforms  at the state and federal levels.
An alliance with FreedomWorks enhances Brannon's street cred with the Tea Party, adds more grassroots organizing tools to his arsenal, and will likely aid his advertising and fundraising operations.  Polling and fundraising reports indicate that Brannon and GOP establishment favorite Thom Tillis are the frontrunners in the GOP primary field.  Tillis has already received overt political and financial support from national GOP establishment figures like Karl Rove, Mitch McConell, and John Boehner.