#SCSEN: ANOTHER censure for Lindsey Graham?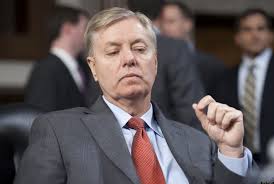 Boy, the problems keep mounting for South Carolina's senior US senator.  He's got four primary opponents.  He's been censured by at least half a dozen county GOP organizations (including the one in his home county).  It appears some activists in Myrtle Beach want to add to his problems.  Here's an email sent to members of The Myrtle Beach Republican Women by activist Johnnie Bellamy:
Hello MBRW Membership and Friends

On Monday evening Feb 3rd @ 5:30 PM the Horry County Executive Committee will meet to vote on a resolution to Censure Lindsey Graham

.  Censure is defined as an expression of strong disapproval or harsh criticism.  The meeting will be held at the Horry Georgetown Technical College Burroughs Auditorium, you are welcome to attend.

Attached to this email is a response from the HCGOP Chair, the SCGOP Chair and most importantly, the Horry County Legislative Delegation, to the motion to censure Lindsey Graham.

What I find striking is that the Horry County Precinct Executive Committeemen, from presenting a motion to censure which is provided in the HCGOP Bylaws is referred to in this email as "party infighting and division."  

Remember Shakespeare's line "Me thinks they doth protest too much."  If you have time, please provide your responses in reply to this email to the Horry Delegation's Statement.

Thanks in advance.
Here's what party leaders south of the border had to say:
From: HC GOP <

hcgopnews@gmail.com

>

To: HC GOP <

hcgopnews@gmail.com

>

Sent: Sat, Feb 1, 2014 8:25 pm

Subject: Horry County Elected Officials respond to possible censure resolution

Horry County Executive Committee and Precinct Presidents,

Attached to this email are responses from HCGOP Chairman Robert Rabon, SCGOP Chairman Matt Moore, and our local state house delegation and county council members to the possible censure resolution. Please read these messages as you consider your votes.

Party infighting inhibits our ability to grow this party, elect Republicans at local, state and federal offices, and bring about positive policy changes to our community.

The Republican primary in South Carolina is designed to ensure the selection of our party's nominee, who will face off against the democrats in the general election. To the extent we don't like a particular candidate, each of us are free to choose, volunteer for, and donate to any office seeker we may deem appropriate. The Party's role, then, is to promote all Republican candidates, get the vote out, and be a forum for ideas which allow our party to promote sound principles and policy choices. While we are all passionate about our respective candidates and policy ideas, we should also be respectful of those office seekers and the opinions of others.

The Republican party has always been a big tent for different groups of people and their opinions and we should be mindful of that when we make our votes.
Sounds like things are going to be fun in Myrtle Beach tonight.