Boehner, The RNC & co. coming after Walter Jones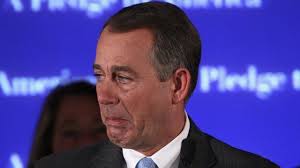 In 2002, the DC establishment parachuted Elizabeth Dole into North Carolina to fill the seat of retiring senator Jesse Helms.  In 2014, Karl Rove, John Boehner and Mitch McConnell are trying hard to pick our next US senator for us.  Also, this year, it appears House speaker John Boehner is working behind the scenes to pick a new representative for our state's Third congressional district.
Walter Jones has always been a different animal.  He was quite the outlier as a Democrat serving in the state House.  In the US House, as a Republican,  he's confounded GOP leader after leader for refusing to toe the party line.  He was one of the few North Carolina voices to vote right on repealing ObamaCare and lifting the debt ceiling — arguably the biggest issues on Americans' minds these days.  Thanks to his independent streak, Jones finds himself on John Boehner's BAD list.  
Long-time GOP operative and DC lobbyist Taylor Griffin has been parachuted in to the Third District to serve as an instrument of payback against Jones.  Word has leaked out about a DC fundraiser for Griffin hosted by a number of DC GOP Establishment figures.  Even the drive-by media is expressing astonishment over GOP operatives working to oust a sitting GOP Member of Congress. 
Let's take a look at some of the names on the Griffin fundraiser invitation.  First, let's take Will Kinzel.  He's an aide to John Boehner.  Matt McDonald is a former aide to conservative *stalwarts* like Arnold Schwarzenegger and John McCain.   Here's David Aufuhauser.  Kevin Sheridan was a top aide to Paul Ryan during the 2012 presidential campaign and, earlier, a press flack for the RNC.  Tony Fratto and Stuart Siciliano served as press spokesmen in the George W. Bush White House.  Tracey Schmitt was a long-time RNC aide, has deep ties to the Bush political machine, and apparently has bought into the Left's "Republican war on women" nonsense.