Your tax dollars at work: Selling American rock music to foreign consumers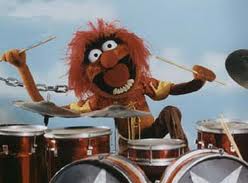 Unbelievable.  We have an economy in free-fall.  Record numbers of people out of work.  Record amounts of federal debt.  Air traffic controllers being furloughed.  Parks being closed.  Tax rate increases.  White House tours being cancelled.  But our government can STILL find the time AND money to peddle rock music to overseas consumers:
The federal government has helped American exporters sell telecommunication systems to Macedonia, tractors to Chad, and elevators to Japan.

Now, the U.S. government is helping push a different kind of export: rock music.

American music's share of the global market has waned to 27% from 38% since 1990.

For the first time, the U.S. government's trade arm is stepping in to help the music business, funding trade missions to Brazil and Asia in recent months for the heads of a dozen independent music labels, which make up one-third of the U.S. music market and represent acts such as the Black Keys and Sonic Youth.

It is a departure for the International Trade Administration, which has been spending $2 million annually to boost exports for the past two decades under its Market Development Cooperator Program but has never before given one of its $300,000 grants to the music industry, instead favoring sectors like machinery, technology and engineering services.

Until last year the agency hadn't received a music-industry application worthy of the award, an ITA spokesman said. Indeed, it hadn't received an application at all.

"We need to find new revenue streams," said Rich Bengloff, president of the American Association of Independent Music, whose idea it was to apply for the grant. He led the trips and arranged meetings with local distributors, mobile-phone carriers, booking agents and ad agencies. "We now need to adjust to a smaller monetization at home."

Indie labels see big opportunities in Latin America and Asia—and visiting in person pays off, especially in markets such as Japan, where fans favor foreign artists that spend time in their country engaging with locals and making TV appearances.

Many of the independent label heads that visited Seoul, Shanghai and Hong Kong this fall as part of the ITA grant program have since signed foreign distribution and licensing deals that will generate hundreds of thousands of dollars a year, Mr. Bengloff said. The deals could represent as much as a quarter of a small independent label's revenue, he said.

Alec Bemis, managing partner for the New York indie label Brassland, said as a result of a government-subsidized trade mission, he recently signed digital distribution deals in Korea and Hong Kong, began negotiations to license a song for an Hyundai Motors  commercial and booked festival shows in Hong Kong and Taiwan that will pay five-figure fees.

Exports are part of a survival plan as the music industry struggles to adapt to sweeping transformations in technology. For independent labels, which lack the resources and reach of bigger labels, exports are even more crucial to growth. Moreover, American music's share of the global market has waned to 27% from 38% since 1990.

U.S. music sales—both digital and physical—totaled $7.1 billion last year, according to the Recording Industry Association of America, down from $11.8 billion 10 years ago.
Could that have something to do with the quality of offerings from the United States?  Could it have something to do with a dramatic drop in disposable income?  (You know, with all of this unemployment, these layoffs and hour cuts, ObamaCare, and the growth of other government regulations.)   It sure looks like a sweet piece of karma that these people are moaning about the poor quality of the business environment, given that they voted for and heavily financed the crowd that has given us this mess.  MORE:
The music industry has been besieged by growing availability and quality of free music from YouTube, streaming services such as Spotify and Pandora, and illegal pirating. All of those things are pushing down prices of downloads and paid streaming subscriptions, shrinking domestic sales, Mr. Bengloff said.

While those forces are squeezing markets world-wide, the pressure has been far more pronounced in the U.S., where digital sales account for 58% of the music market, according to the International Federation of the Phonographic Industry. Germany, by contrast, buys only 19% of its music in digital format.

Japan, which was half the size of the U.S. market in 1990, could become the world's No. 1 music market next year, analysts say, thanks to its robust appetite for records and CDs often packaged at premium prices with memorabilia. Digital music accounts for just 17% of Japanese music sales, according to IFPI.

Meantime, such countries as Australia, Canada, France and Britain have been far more pushing their music overseas, cutting into both the domestic and foreign market share of U.S. companies. Those governments have sponsored trade missions and marketing campaigns of their own.
THIS stuff will not put all of these people back to work.  THIS STUFF will not pull our economy out of its tailspin.  THIS STUFF is little more than a payoff to a bloc that generously financed the administration's election and reelection campaigns.
How about letting the market work things out?  There are people selling tons of records by bypassing the record companies and going directly to iTunes.  Most businesses — if their sales are down — rework their business strategy to ensure that they are giving the market WHAT IT CRAVES.  Most don't get special treatment from a winners-and-losers-picking government pork-barrel program.