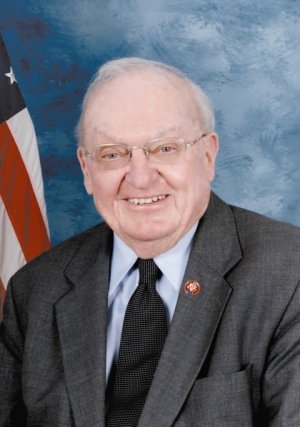 Howard Coble, the Republican congressman representing North Carolina's Sixth District,  appears to be playing the part of Hamlet here at the end of 2011.  Fresh off of hospital stays in DC and Greensboro, the congressional delegation's senior member says he can't make up his mind on whether to run for reelection.
Never mind that the primary is about five months away.  Never mind that — if he decides to retire — the new Republican candidates will have a very short time to introduce themselves to voters.
Here's how Coble laid out his situation to Greensboro TV station WGHP:
"If the decision were today, I'd be leaning toward re-election," said U.S. Rep. Howard Coble on Wednesday after finishing a two-week hospital stay.

Coble, 80, said a while back that he would make his final decision on another term in December 2011. However, that was before he went to George Washington Hospital Dec. 13 to be treated for an upper-respiratory infection.

This most recent trip was Coble's second trip to the hospital in two years. However, his recovery time at Moses Cone Hospital in Greensboro was less than a week, several weeks faster than anyone expected.

Coble said Wednesday he hasn't fully committed to his decision about re-election, saying he is evaluating his health and how redistricting could potentially affect a run.

The map drawn by the legislature adds four new counties near Raleigh and Durham. Coble said he has not spent any time campaigning in these new areas so far.

"I'm planning to (campaign)–well, once I know. I probably won't until it's finalized," Coble said.

Coble said he has heard from other potential candidates wanting to run in the district.

"I've received several phone calls from people who tell me they are interested in seeking election to be the representative from the 6th district. I think I received 6 or 7 calls. They told me they will not file if I do file," Coble said.

Coble said he'll have a better gauge on if he's well enough to run in the next several days.

"If I feel that I'm not up to it, I'm not going to seek re-election just for the sake of seeking re-election," Coble said.

Coble has served as District 6 representative since 1985.
What is he waiting for?  If it is an OK from the doctors, that's fine.  If he's waiting around to see if the districts are going to be redrawn, THAT'S selfish.  That clearly says it's not about serving the people. It's all about HIM.  (The new Sixth District is also majority Republican.)
It appears that we, in Moore County, will be moved from Coble's district to The Second District, represented by Renee Ellmers.   She  has already been making the rounds here.
If — by some chance — the districts are redrawn, that decision will come after the May primary or even possibly the November vote.  Candidates have no choice but to proceed as though these new districts will stand.
I can understand the reluctance of other candidates to go ahead and  jump in a primary with Coble.  He has an almost cult-like following that would make the Moonies jealous.  Coble crushed SIX primary opponents — without a runoff — in 2010.
For the good of the party, and out of respect for his constituents, Coble needs to jump off the fence — one way or another – about reelection.