The view from UNDER the bus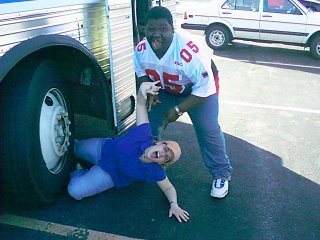 THIS didn't take long: 
A leading Republican state senator issued an apology Tuesday for his remarks skewering Gov. Pat McCrory, first lady Ann McCrory and lawmakers in a private meeting about legislation to regulate puppy mills. […]

Rabon called the McCrorys, House Speaker Thom Tillis and Democratic House leader Larry Hall to apologize Tuesday. "While I spoke out of frustration in the heat of the moment, it does not excuse what I said or how I said it," Rabon said in a statement released by Senate leader Phil Berger's office.

[…] N.C. Republican Party Chairman Claude Pope said he was "happy to hear that Sen. Rabon did the right thing and apologized."[…]
We posted earlier on state senator Bill Rabon's (R-Brunswick) comments about the House and the governor and the first lady.  We admitted that Rabon was a bit politically tone-deaf during the whole affair.  But we think it was important how he brought the underlying tension between the House and the Senate and the governor's office to the surface.  We've been hearing stuff similar to what Rabon said for months from elected and unelected senate sources (not named Rabon).  
It's pretty clear that some major heat was handed down from GOP higher-ups to toss Rabon under the bus.  I think Berger's spokesman responded beautifully to media inquiries:
Through a spokeswoman, Berger, the Senate president pro tem, declined to comment on Rabon's language. "It would create a chilling effect on the ability of legislators to have candid and honest dialogues with their constituents," said Shelly Carver, the spokeswoman.
Recording — with or without notifying a speaker in a public event — is fine.  (if you're going to publish or air said tape, keep it in context.)   Putting a gag order on legislators regarding their conversations with constituents is NOT.
Politicos need to assume that, if any kind of recording device is visible, it could be ON.  (Look at congressman Grimm from New York as a great case study and example.)  Don't say anything you wouldn't mind having printed on the Internet, the front page of the local paper, or broadcast on the evening news. 
The sermon being preached from NCGOP HQ is that Republicans need to keep all negative comments to themselves.  Present one big happy aura to the public.  
The problem with a SHUT-UP mandate is that it keeps things stewing behind the scenes, until they boil over and blow up at very inopportune times.  
I think Sen. Bob Rucho responded to THE Pope's attempt to throw him under the bus beautifully:
In a terse statement, N.C. Republican Party Chairman Claude Pope blasted the tweet on Monday.

"The tweet is highly offensive and he should apologize," he said.

"I have no need to respond to Claude Pope because I don't owe him and he doesn't owe me," responded Rucho. "What I stand on is the truth."
The name that I keep hearing  from insiders as the primary catalyst for all of this tension between Jones Street and Blount Street is the same name as someone currently running for US Senate.  Maybe things will get better once he's finally gone from Jones Street.  Instead of sweeping all of this under the rug, and protecting someone's US Senate ambitions, why not just DEAL with the source of the problem?