Roberts passes. (Game ON?)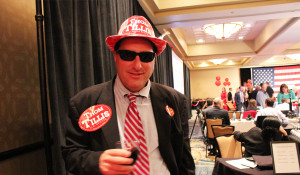 Chief Justice John Roberts has allowed the lower court ruling on North Carolina's congressional districts stand.  Soooooo – it's now a certainty we won't be voting for Members of Congress in March. 
The congressional primary will be moved to June 7.  We will be voting for president, and everything else, still on March 15.  Two important changes with the new congressional voting?
NO RUNOFFS:  You can win a party's nomination for the US House with a plurality now.  No majority needed. No 40 percent needed. I don't know about you, but I am not thrilled with the idea of someone who only pulls 28 percent of the primary vote getting the golden ticket to the general election.  Defenders of this change cite a desire to save money. (I wish that extended to other areas of governance.) In reality, it is an incumbent protection measure.  The more people who pile into a primary, the more benefit to the better-known incumbent.

RUN FOR THIS

AND

THAT.  We're getting our very own LBJ rule.    For
the June 7 primary, there is now a lot less risk for current elected officials in other offices who may want to roll the dice on a two year trip to DC.  Observers are seeing this as a special deal for Phil Berger, Jr. , a candidate for Court of Appeals, who lost a heated primary for Congress in the 6th district in 2014.We're already hearing about some other political celebrities eyeing runs for Congress in June. Sources tell me former Mecklenburg legislator Ric Killian is looking hard at running in the new 13th district.  (George Holding, the current rep for the 13th, has said he's going after Renee Ellmers in the 2nd if this map stands.) Killian has Tea Party ties.  He had a respectable conservative record in the state House before quitting to run for the open 9th district congressional seat in 2012. We're also hearing that state senator Andrew Brock is eyeing a run in the 13th.Word hit the drive-by media today that state Rep. Susi Hamilton (D-Wilmington) may jump into the Democrat primary for the 7th district in June.

I am expecting more Jones Street types to roll the congressional dice before this is all said and done.
The prospect of things getting tied up by further lawsuits is still very real.  Democrats are using some pretty angry language in relation to the new map. So, the drama here may not be over.