NC-02: Watch out Nee-Nee! Big George is a-comin' !
George Holding has all but confirmed he will primary Renee Ellmers if the new congressional maps stand: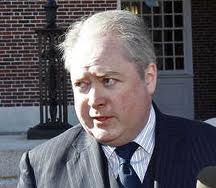 Republican Congressman George Holding of Raleigh – whose 13th District moves hundreds of miles west under new district maps approved Friday – plans to run in the 2nd Congressional District against fellow Republican Renee Ellmers, according to his campaign consultant.

A large chunk of Holding's current district would join the 2nd District under the legislature's plan, which was developed under a federal court order. Holding's home is in the 4th District under the plan – about six miles outside the new 2nd District – but candidates aren't legally required to live inside their district.

"Nobody's too thrilled about the prospect of a primary, but that's the democratic way," said Carter Wrenn, who spoke Friday afternoon on behalf of the Holding campaign.

Reaction from the Ellmers campaign was strong.

"Frankly, to want power that bad … (it's) an extremely aggressive move," said Patrick Sebastian, spokesman for the Ellmers campaign.

Wrenn, talking about Holding's decision, said that while the new district will bear the number of Ellmers' current territory, most of the voters there are now represented by Holding. Holding has no ties to the new 13th District, which runs from western Greensboro to Statesville.

The plan left Holding with three realistic choices if he wanted to stay in the House: run in the new 13th where he's unfamiliar to voters, challenge U.S. Rep. David Price in the heavily Democratic 4th, or challenge Ellmers in the 2nd. […]
Irony of all ironies:  Wrenn was Ellmers's consultant when she knocked off Bob Etheridge.  So, this will be very familiar territory for him. (*SIGH.  Lil' Guv better polish up the résumé.  It's gonna be shoe-leather time again after JUNE.)
Though — remember — the judges still have to bless this new map.