Patrick McHenry and pro-ESG firms: "hating" their politics, but LOVING their cash
It's not exactly surprising for one of our "honorables" to say ONE thing in front of the media and /or the voters, and do ANOTHER thing outside the spotlight.  But CNBC appears to have the goods on our very own Patrick McHenry:
Republican lawmakers who railed against "woke capitalism" in the 2022 midterm elections have taken tens of thousands of dollars in campaign donations from some of the same Wall Street money managers they have attacked for pushing what the GOP calls "far-left" positions on environmental, social and corporate governance issues.

Conservative activists have been pressuring Republicans to wield their new power in the House to block corporations and executives that use their influence to promote ESG plans such as clean energy investments or corporate policies that support abortion rights or LGBTQ rights, among other issues.

Matt Schlapp, chairman of the influential Conservative Political Action Conference, called on Republican lawmakers in a September letter to agree not to meet with "corporate woke elitist(s)" once they regained control of Congress. Schlapp didn't return a request for comment.

And the GOP has been happy to oblige.

Since taking control of the U.S. House, top Republicans have refused meetings with the U.S. Chamber of Commerce and created a working group to "combat the threat to our capital markets posed by those on the far-left pushing environmental, social, and governance (ESG) proposals." Formed under the House Financial Services Committee, the panel promises to rein in the Securities and Exchange Commission and "hold to account market participants who misuse the proxy process or their outsized influence to impose ideological preferences in ways that circumvent democratic lawmaking."

"Progressives are trying to do with American businesses what they already did to our public education system — using our institutions to force their far-left ideology on the American people. Their latest tool in these efforts is environmental, social, and governance proposals," House Financial Services Chairman Patrick McHenry, R-N.C., said in a Feb. 3 statement announcing the group.

The announcement doesn't call out private equity or investment banks by name. But Republicans have vilified BlackRock, Vanguard Group and State Street for leading the push on Wall Street to promote clean energy and what GOP lawmakers often title "left-wing social priorities." 

Still, many Republican lawmakers received money from the very firms their party is criticizing. Ten of the 29 Republicans on the Financial Services Committee, including McHenry, took in a combined $140,000 in campaign donations from those three investment firms during the 2022 election cycle, according to Federal Election Commission filings.

McHenry and Rep. Bill Huizenga, R-Mich., who chairs the Financial Services Oversight and Investigations Subcommittee and was tapped to lead the ESG working group, each took $10,000 during the last two-year election cycle from BlackRock's political action committee, according to FEC filings. The $10,000 is the most a PAC can legally contribute to a campaign in an election cycle. It was the third election cycle in a row that both lawmakers took donations from the firm's PAC.

Campaign filings also show that Huizenga and three of the nine members of the working group have recently received donations from the PACs of BlackRock, Vanguard, State Street or Goldman Sachs, all of which offer ESG investment strategies to clients. Two other Republican members of the working group took contributions from leaders of Apollo Global Management and Trian Partners, both of which tout their own ESG policies.

Apollo Global Management launched a sustainable investing platform that looks to invest $100 billion in clean energy projects by 2030, according to its 2022 annual ESG report.

BlackRock CEO Larry Fink told Bloomberg at the World Economic Forum in Davos, Switzerland in January that the debate around ESG was getting ugly and the firm was trying to address the "misconceptions" around the issue.

"It's hard because it's not business any more, they're doing it in a personal way. And for the first time in my professional career, attacks are now personal," Fink said.

[…]

McHenry took in another:

$10,000 from State Street from April 2021 through mid-August 2022

$5,000 from Vanguard in November 2022

FEC filings show other ESG working group members received donations from the firms they are expected to be scrutinizing:

[…]

Asked in June before he became chairman of the Financial Services Committee if lawmakers plans to call Fink or other firm CEOs to testify on ESG platforms, McHenry said that "no decision has been made about particular firms being called to testify before the committee." McHenry's spokeswoman Laura Peavy told CNBC that the congressman's June statement "still stands," and pointed to the working group's official announcement for more details on how it plans to operate.

Campaign ethics experts say that the donations bring into question whether there can be any consequences for the companies in a larger congressional inquiry into ESG-related practices.

"If these politicians want to successfully investigate these companies and want to point to how much they disagree with these policies, then maybe they shouldn't be taking money from them," Robert Maguire, a research director at campaign finance watchdog Citizens for Responsibility and Ethics in Washington, told CNBC in a recent interview. "No matter how it shakes out, these companies are going to have more of a say than any other American."

[…]

Will Hild, the executive director of Consumers' Research, a nonprofit that criticizes ESG practices and firms such as BlackRock, said Republicans will increasingly have a "difficult time squaring receiving support" from many of these companies. He said he believes the investment firms "clearly have a political agenda with the assets that have been trusted to them."

[…]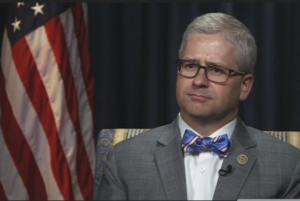 We reported earlier about how McHenry had bashed the idea of ESG, but did not completely rid his committee of ESG oversight.