Our boy governor throws a fit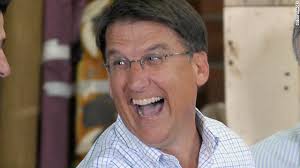 Gov. Pat McCrory had something on his expansive mind so he took to that bastion of right-wing thought called public radio to let it all out: 
Republican Gov. Pat McCrory on Monday called a GOP proposal to redistribute sales tax revenues "class warfare" that would raise taxes on "millions of people in North Carolina."

And the governor said another Republican bill designed to protect religious freedom "makes no sense."
Aah.  Protecting religious freedom makes no sense. *Boy, Madison, Jefferson, Adams and the gang sure have egg on their faces. *
"What is the problem they're trying to solve?" McCrory said during a radio interview. "I haven't seen it at this point in time."
Pat's apparently not keeping up with his hometown news.  The Charlotte City Council tried to cram a piece of the gay agenda down the throats of Charlotte taxpayers that would have forced changes — among other things — like OKing draq queens using ladies restrooms in businesses across the city.
 If there's already a federal RFRA in place, why did Indiana pass its own RFRA?

Great question. In a 1997 Supreme Court case (City of Boerne v. Flores), the court held that federal RFRA was generally inapplicable against state and local laws. Since then, a number of states have enacted their own RFRA statutes: Indiana became the twentieth to do so. Other states have state court rulings that provide RFRA-like protections.[…]
State RFRAs protect business owners who get taken to state court by well-funded leftist shakedown mobs.  Once again — the federal RFRA was signed into law by Democrat Bill Clinton.  It passed a Democrat Senate 97-3.  Then-congressman Chuck Schumer (D-NY) sponsored the bill in the House.   MORE: 
[…] McCrory compared the "Religious Freedom Restoration Act," whose sponsors include two Charlotte lawmakers, to the effort to allow transgender persons to use the bathroom of their choice. Both are not needed, he said.

McCrory also said he opposes a Senate-passed bill to give magistrates the right not to perform same-sex marriages if they say that violates their religious beliefs.

"I don't think you should have an exemption when you took an oath to uphold … the constitution of North Carolina," he said.