#NCSEN: Tillis goes Hollywood, backs $40 million in additional state incentives for film industry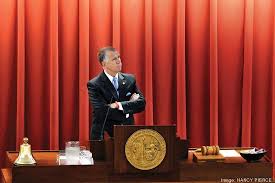 During the recently-completed GOP primary for US Senate, speaker Thom Tillis told a fundraiser crowd in Wilmington he favored the retention of state incentives for studios shooting movies and TV shows in North Carolina.  A few days later, several folks connected to Wilmington-based Screen Gems Studios dumped a pile of money into the Tillis for Senate campaign coffers.
For a while, there appeared to be some drama over whether the film incentives would survive the budget debate in Raleigh.  Conservative groups loudly complained that the incentives were little more than corporate welfare that produced little to no benefit for the taxpayers.  
But today, all of that appears to have been put to rest.  Speaker Tillis came out in favor — today on the House floor — of $40 million in additional funding for film incentives for the upcoming budget year.  It appears that with, um, some people, you DO get what you pay for.
Even Gov. Pat McCrory has admitted that the whole idea of film incentives needed to be re-thought.  His commerce secretary, Sharon Decker, has gone on record saying the incentives would be back — in some form.