#NCSEN: The state of the write-ins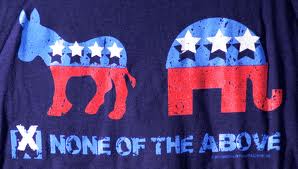 We posted earlier about a write-in effort for US Senate on behalf of former state legislator John Rhodes. Guerilla videographer Chuck Suter has even posted a new video on how to write-in Mr. Rhodes.
Apparently, Rhodes fans are not the only ones out there with ideas about adding to the US Senate fray in November.  The state board of elections keeps a nice database showing the status of petitions for write-in and unaffiliated candidates.  (All petitions MUST BE submitted to county boards of election no later than July 22).  
According to the database, there are at least six potential write-in candidates for US Senate.  We've told you about David Waddell's effort. It appears a write-in effort on behalf of former GOP primary candidate Heather Grant is underway. Barry Gurney is seeking write-in status, as is Michelle Palmer Parks.  Sherry Burrows is also trying to get in as official write-in options.  (Burrows is also seeking to appear on the ballot as an "unaffiliated" candidate.) 
As of today, Gurney appears to be the most successful of the write-in wannabes — with 283 signatures submitted and 249 approved.  (500 need to be approved in order to have a candidate's votes included as part of the official election tally.)  Waddell has submitted 117 and has had 108 approved.  The Rhodes group has submitted 19 and has had 19 approved. According to the database,  supporters of Grant, Parks, and Burrows have not submitted any signatures thus far.
Republican Thom Tillis, Democrat Kay Hagan, and Libertarian Sean Haugh have already scored spots on the November ballot.