#ncsen: The campaign trail tap-dance. ( Jeb WHO ????)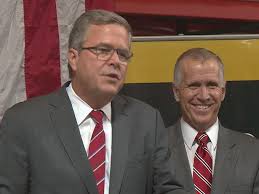 Why on God's green earth would you have someone campaign for you who so fundamentally disagrees with you on the issues?  That's the story the Tillis campaign tried to sell The New York Times and North Carolina voters Wednesday: 
[…] Standing alongside Thom Tillis, the North Carolina House speaker and Republican Senate candidate, Bush outlined his views on two of the issues he cares most passionately about: immigration policy and education standards. But as Bush made the case for an immigration overhaul and the Common Core standards, Tillis gently put distance between himself and his guest of honor, who had flown from Florida to offer his endorsement.

"You have to make it clear that amnesty shouldn't be on the table," said Tillis, referring to how to address those immigrants currently in the country illegally. "That doesn't negate any opportunity to provide some with legal status and other things, but you only do that after you seal the borders and you make the problem no longer grow."

Bush supports a pathway to citizenship for illegal immigrants and complained that not addressing the immigration system "has done us harm economically."

Speaking to a group of business owners, he said, "Fixing a system that doesn't work is a big thing that I think will restore and sustain economic growth for this country."

"And my hope is with a Republican-controlled Senate, we can begin to see a conversation about how to go about doing that," he said.

But an easy resolution is not likely in his party. After a reporter noted that Bush's immigration stance was more "conciliatory," the former governor chuckled and the Republicans in the audience let out a brief, nervous laugh.

On Common Core, Tillis also sounded far more conservative than Bush.[..]
I guess we can expect more of this.  South Carolina senator Lindsey Graham (R) –  not so far off from Bush ideologically — is campaigning with Tillis in Charlotte today.  (Hopefully, Chuck Suter and his video camera will be in the vicinity.) 
The DC GOP is trying to give Tillis a boost by allowing him to give the party's official response to Barry Obama's weekly video rant.