#NCSEN: O-Care political realities are biting Sen. Schumer's sock puppet in the, um, butt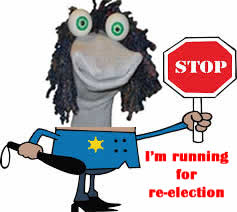 It's a far cry from those heady days in 2008 and 2009 when a certain former state senator from Greensboro aspiring to be a US senator was telling us that we were going to eat every bit of our ObamaCare, and we were going to like it.  Fast forward to today.  North Carolina is one of the hardest hit states in the Union by ObamaCare:
[…] The state is experiencing many of the problems typically associated with the controversial law. Local businesses are cutting hours; individuals (at least 160,000 of them) are losing their existing insurance plans and now face premium costs that have more than doubled as a result of Obamacare. In some cases, premiums have jumped by more than 400 percent, and federal subsidies aren't nearly enough to offset to the cost. […]

North Carolina is particularly vulnerable to cost increases because one company — Blue Cross Blue Shield (BCBS) — dominates much of the health-insurance market in the state, serving more than 3.7 million customers. But the company has encountered a series of problems with the federally administered exchange, enrolling only one person in the first month, and that individual has yet to pay for coverage and so therefore is technically not in the system.
One company? How did that happen, Wayne Goodwin?    MORE: 
Fewer than 1,000 people have even filled out applications through the exchange, but the government website has proven so flawed that BCBS has declined to upload any data, out of fear that doing so would result in the introduction of incorrect information into its computer system. Some families have been unable to sign up for coverage despite weeks of trying to access the exchange via the website, by phone, and even by mail.
It's tough being Kay Hagan — affectionately known in many quarters of this state as NY senator Chuck Schumer's sock puppet™ — these days.  A gaggle of Republicans are chomping at the bit to take her on.  For the first time, Democrat polling is showing one of those Republicans — Greg Brannon — actually polling ahead of her.
Sounds like it's time for a little CYA.  (Wait.  Do sock puppets even have As?)  Hagan has apparently been watching the news in North Carolina and looking at the polling.  She's fired off a letter to some of Barry Obama's apparatchiks demanding a — get this — "probe.":
[…] Senators will ask the Obama administration for a full investigation into the bungled launch of HealthCare.gov, according to a letter being circulated by Sen. Kay Hagan.

The North Carolina Democrat is collecting signatures this week for a letter to Government Accountability Office Comptroller General Gene Dodaro and Health and Human Services Inspector General Daniel Levinson asking for "a complete, thorough investigation to determine the causes of the design and implementation failures of HealthCare.gov."

"These problems are simply unacceptable, and Americans deserve answers and swift solutions. Taxpayers are owed a full and transparent accounting of how the vendors contracted to build the site failed to launch it successfully," a draft of the letter reads.[…]
Um, Kay.  This kind of thing would have been nice BEFORE you and Chuck and Harry and Barry and the rest of your gang shoved this down our throats. 
Kay and her spiritual leader Barry Obama are acting all surprised that people are getting their insurance policies cancelled thanks to this legislative boondoggle.  A friend of mine — a local independent insurance broker — told me this was coming MONTHS ago.  If this guy is more plugged in than Barry and Kay, our country is in more trouble than I previously thought. 
In September of 2009, I traveled with a friend of mine to meet with newly-minted Senator Hagan's staff in DC — in a last-ditch attempt to try and talk some sense into them about O-Care.  My friend is a successful North Carolina-based investor and businessman who has founded a number of businesses and created scores and scores and scores of new jobs.  He knows the ins-and-outs of economics, finance and all that.  
We got a sit-down with six folks from Kay's staff.  They looked to be a hand-picked sample from any given on-campus sit-in perpetrated by the Chapel Hill-Carrboro crowd — dirty hair, nose piercings, disdainful facial expressions, and all. I let my friend do most of the talking — and he delivered a very scholarly, well-informed analysis of ObamaCare and its potential effects on business and the economy.  (Looking back, his take was sooooo spot-on.) 
We left the office –knowing that all we had said went in one ear and out the other.  Kay Hagan went on to provide the 60th vote for ObamaCare.  And here we are.