#NCSEN: Comparing 2006 Tillis to 2014 Tillis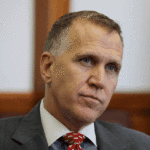 We're being sold the idea of Thom Tillis as a principled, pro-business conservative.  Sometimes, to understand the present, you have to look at the past.
Tillis burst onto the state political scene in 2006 when, as a recent former  Cornelius town commissioner, he challenged the reelection of conservative state legislator John Rhodes (R) in that year's House primary.
During that 2006 contest, Tillis hit Rhodes with THIS mailer attacking Rhodes' "record" on education.  The flier was so full of half-truths and flat-out lies that a local blogger had to post a rebuttal: 
The famous "11th commandment of Ronald Reagan" is to not attack fellow Republicans. Even the anti-Reagan faction of the Republican party should know better than to do so with misleading information. Last week Thom Tillis broke this commandment, and at the same time suggested that he believes that Liberal Democrat legislation is a good thing for education in North Carolina .

Most of you know NC Rep. John Rhodes, and that he has consistently voted as a Conservative Republican in the NC legislature. This makes him very unpopular with the Charlotte Observer! Many of you are less familiar with Tillis, but the usual RINO and liberal cheerleaders appear to be supporting him.

Tillis' mailer makes claims that "Politician John Rhodes (is) FAILING to make the Grade for North Carolina Schools" The mailing goes on to list a number of bills that John opposed in the legislature and also includes a quote from Huntersville Town Commissioner Brian Sisson that is critical of John.

This mailing not only broke the Reagan commandment, but was misleading and offensive.

Here are some facts of which you should be aware.

1. Brian Sisson has not consistently been a registered Republican. He has switched between Republican and "unaffiliated". Perhaps Brian can clarify why he has done this.

2. The elected officials in North Mecklenburg endorsing Mr. Tillis have generally also supported other liberals or moderates in previous races. John Rhodes, on the other hand, has the endorsement of most of the conservative Republican leaders in our community, including Congressman Sue Myrick!

3. The votes cited by Tillis and opposed by John appear to have been either Democratic sponsored bills or amendments to Republican sponsored bills that appear to be either pork barrel or more regulation, and seem to have nothing to do with the subject or original intent of the respective bills. The bills cited in Tillis's mailer include the following.

-HB 1414, sponsored by Democrat Garland Pierce. Co-Sponsors included 7 more Democrats and 2 Republicans.

-HB1460, sponsored by 22 Democrats and 1 Republican. Mecklenburg's own Democrat Becky Carney was among the 4 primary sponsors (all Democrats)!

-HB 855, sponsored by Democratic Rep Insko, along with 1 other Democrat.

Tillis also mentions two other votes by Rep. Rhodes against what Tillis calls "needed legislation".

–HB 1457 which was sponsored by Conservative Republican John Blust. John Rhodes is listed as a co-sponsor! The original bill called for "Zero-Based Budgeting" which means that you review all of your costs and prioritize each time you propose a new budget. Presumably, Tillis' citation refers to John voting against an amendment that would have watered down the original bill. Tillis mentions "removing students from the classroom and placing them in alternative programs." Perhaps a proposed amendment was intended to earmark additional funding for "alternative programs"? 

-SB 583 which is the North Carolina National Guard Heroes Act, and was sponsored by a number of Conservative Republicans. This bill has subsequently been referred to committee. The bill was intended to provide an additional death benefit to those killed in action. The issue raised by Mr. Tillis, against which John Rhodes apparently voted, seems to be an amendment which would have added additional regulation of nutritional standards (and likely costs) to school snacks. Perhaps someone could explain what school snacks have to do with the NC National Guard?

Perhaps Mr. Tillis can clarify why he believes that it is the responsibility of a Republican legislature to vote for Democratic bills and amendments, as well as why he would put out such a misleading and offensive mailer to Republican voters? Perhaps he believes that we all just need to get along with Becky Carney, for "education"?
Here's another one attacking Rhodes for blocking efforts to protect taxpayers and  thwarting efforts at "job creation."    The problem?  Rhodes was a co-author of A Taxpayer's Bill of Rights.    The job creation attack sounds like some of Tillis' bag men  were upset that Rhodes was not a sycophantic supporter of corporate welfare.  
Then, we had a little ol' mailer on taxes.  Candidate Tillis says he supported cuts to the gasoline tax (as though Rhodes did not).  The last legislative session got us a slight temporary cap on the state gas tax.  But we are still well above our neighbors in Tennessee, Virginia and South Carolina.  Eight years into the Tillis era —  we're still among the highest in the nation.