#ncsen: Club For Growth TV ad *b-slaps* Gov. Pat
I've said it before.  It sure would be nice if North Carolina Republicans would be as harsh on the Democrats as they are on each other.
Congressman Ted Budd, former Gov. Pat McCrory, and former Congressman "Public Official A" (aka Mark Walker) are the leading GOP contenders to replace the retiring Richard Burr in the US  Senate.  The Tillis Crowd — aka "The UpTown Charlotte crowd" — is all in for Pat McCrory.  Conservatives and Trump fans appear to be all in for Budd.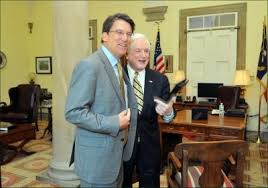 The GOP race has already gotten nasty.  Somebody dumped some oppo to McClatchy (likely the McCrory-Tillis crew) trying to tie Budd to some convoluted bankruptcy court case that we're TOLD "hurt farmers."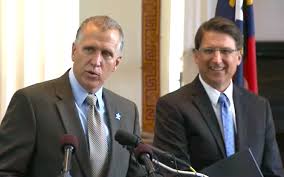 Anyone in the Charlotte area who watched the Panthers yesterday got a good look at the, um, response from Budd fans.  The DC-based Club For Growth – a PAC which backs candidates who are good and conservative on fiscal issues —  broadcast an ad that integrated itself into the game and labeled McCrory "Disloyal", "Liberal", and a "Loser."  
The ad ends with a picture of McCrory hugged up to Barry Obama and the words "Can't Win."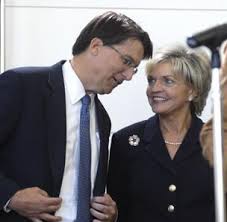 The Disloyal part comes from what many saw as McCrory's weak support for President Trump on the campaign trail.  (I've also heard from friends from Murphy to Manteo about how then-Gov. McCrory's team regularly blew off Republican activists who helped McCrory get to Raleigh and gave key appointments to influence-peddling, big-check-writing Democrats.)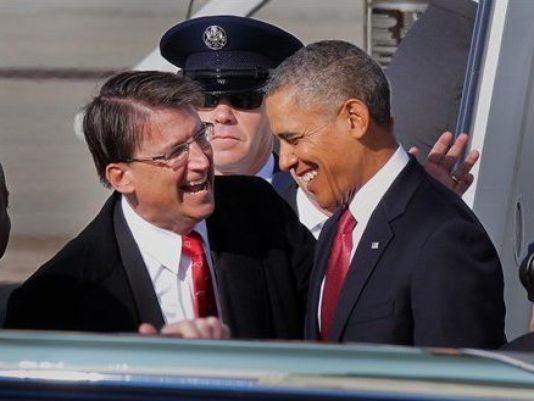 And the Liberal part?   Some of us remember McCrory siding with then-House speaker Thom Tillis against senate president pro term Phil Berger.  Tillis and McCrory wanted to spend more money.  Berger did not.  So, we had quite a political logjam in Republican-controlled Raleigh.
Hold on to your hats, folks.  The Tillis-Shumaker crowd, which is running the McCrory effort, is famous for eschewing conservatism and, instead, going for conservatives' jugular veins.   It's early,  but it's clearly going to get rough.