#NCSEN: Burr probing Ted Cruz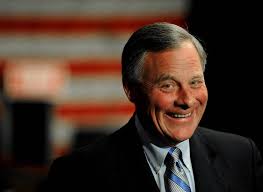 Our senior senator is apparently in hot pursuit of Texas's junior senator: 
A key Senate Republican is looking into whether Sen. Ted Cruz (R-Texas) discussed classified information during Tuesday night's Republican presidential debate.

"I'm having my staff look at the transcripts of the debate right now," Sen. Richard Burr (R-N.C.), the chairman of the Intelligence Committee, told reporters. "Any time you deal with numbers … the question is, 'Is that classified or not?' Or is there an open source reference to it?"
Cruz raised eyebrows during an exchange with Sen. Marco Rubio (R-Fla.) over the National Security Agency's surveillance program, when he said that the old program covered "20 or 30 percent of phone numbers" while the new program covers roughly 100 percent.
Becca Glover Watkins, Burr's communications director, suggested on social media that Cruz might have said something he shouldn't have, though she didn't specifically reference his comments.

Burr added on Wednesday that while he hadn't heard Cruz's comments, "the question had been raised, therefore I asked them to look at it."

He suggested that his staff would need to search through media reports to see if the numbers had been reported independently before. 

The North Carolina senator didn't specify what — if any — consequences Cruz could face if his staff determines that the Texas Republican did discuss classified information. 

"I would be a lot more worried if he was in fact a member of the committee, but to my understanding this subject matter was not one where any members outside of the committee had been briefed on it," he said. 
Let's see:  The old program covered 20 to 30 percent of phone numbers, while the new one covers 100 percent.  WHAT, pray tell, is so damaging to national security about that?
I have friends who have worked in and around the "classified" world of the federal government.  Several of them have told me that much of what you see in "classified" documents is regularly bantered about on CNN and Fox News.  I am told I would be floored at how few stunning revelations I'd find if I had the clearance to review any of that stuff.
Sounds like somebody's criticism of somebody's favorite eavesdropping program got on somebody's last nerve.   Show of hands — who voted for Tricky Dick so he could do THIS?