#ncpol: Who voted to keep funding ObamaCare? THESE GUYS !!!!
We've got all kinds of incumbent congressional critters running around claiming they struck a fatal blow to ObamaCare.  We've got information that says OTHERWISE.  On October 23, the GOP-CONTROLLED HOUSE  took an interesting vote: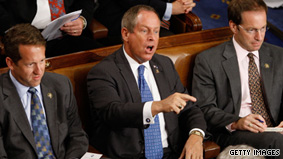 The Restoring Americans' Healthcare Freedom Reconciliation Act (H.R. 3762) would not restore Americans' health care freedom because it leaves the main pillars of Obamacare in place, nor would it actually defund abortion giant Planned Parenthood. This bill violates an explicit promise made in the budget, which "affirm[ed] the use of reconciliation for the sole purpose of repealing the President's job-killing health care law."
This bill passed the House 240-189.  Here are the local GOPers who voted YES:   Richard Hudson, George Holding, Renee Ellmers, Virginia Foxx, Patrick McHenry, David Rouzer,  and Robert Pittenger.    
The offenders from South Carolina were: Mick Mulvaney, Trey Gowdy, Mark Sanford, Joe Wilson, and Tom Rice. 
So, if any of these folks come around trying to tell you they killed ObamaCare, or are working to kill ObamaCare, quote Joe Wilson and tell them:  'You LIE.'