#ncpol: A straw poll ???? (You don't say.)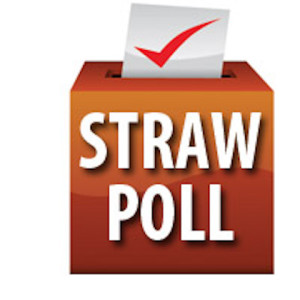 You know what straw polls are like.  EVERYBODY'S got one.  Sometimes, they can be an interesting way to take the temperature of the electorate during a primary.  
The good folks of Moore County — one of the most reliably Republican counties in the state –  held a straw poll this weekend at their annual GOP convention.  Here's what we learned:
President
Cruz – 37%
Trump – 25%
Rubio – 21%
Kasich – 13%
From what I've seen and heard from people across this state, this result pretty much reflects where the race stands thus far in North Carolina. 
US Senate
Burr – 60%
Brannon – 33%
Holmquist – 6%
Wright – 0%
Not exactly stellar number from a two term incumbent US senator.  It's enough to win the primary.  But it ought to give Team Burr cause for concern heading into the general. 
US House District 2
Duncan – 61%
Ellmers – 17%
D'Annunzio – 11%
Daly – 8%
Roche – 4%
This vote came AFTER Renee Ellmers showed up to speak. This is also from a county she's won every two years. (She's represented these people since 2012, by the way.) Of course, if the new maps hold up to judicial scrutiny, it may all be moot.  But it ought to send Miss Nee-Nee a clear message about where she stands. 
Governor
McCrory – 93%
I guess the toll road furor hasn't made its way across the state.  (Maybe they'll figure it out once the toll booths go up on US 1.) 
NC Attorney General
Newton – 81%
O'Neill – 19%
It's a shame that Paul Shumaker and his client are making us all go through this primary.  Bring on Josh Stein!
Agriculture
Troxler – 64%
Stevens – 36%
It looks like the former head of Farmers for John Edwards is safely on his way to renomination.  Again, not very impressive numbers for an incumbent.  But there were probably not a lot of farmers in the room. 
Insurance
Causey – 73%
McLaughlin – 18%
Pierce – 9%
Not a lot of great choices here.  Causey is a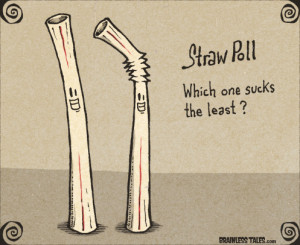 nice guy who has been running for office — unsuccessfully for about three decades now. He has some good ideas about reforming the insurance practice in the state, but he has a bad habit of disappearing off the radar when the smoke from the primary battle clears. 
State
LaPaglia – 54%
Daoud – 46%
AJ was able to wiggle out of that $10,000 fine somehow, but he wasn't able to shimmy past Michael LaPaglia.  (I know. I know. WHO ????)
Supt. of Public Instruction
Stein – 50%
Johnson – 31%
Sills – 19%
Rosemary Stein has worked hard.  She's an ardent Common Core opponent and a very concerned parent.  Mark Johnson comes off as a very nice, articulate young man.  (But he has some troubling political ties to Michael Bloomberg and the Common Core crowd.)  Wesley Sills is an active teacher in Harnett County.  He's in the classroom and sees the problems first hand.  I sense he would be a tweaker of the system, whereas Stein would take a sledgehammer to the bureaucracy. 
NC House -52
Boles – 52%
Zumwalt – 48%
This ought to set off alarm bells on Jones Street.  Jamie Boles is a known quantity here.  He's been a community leader for decades.  He's had his funeral business forever.  He's been active in the county party.  He's represented the county in Raleigh since 2008.  But he barely eked by a political newcomer in a vote by folks who KNOW HIM WELL.  This seat will stay Republican for sessions to come, but it may not have Jamie Boles sitting in it.
Moore County Commissioner
Zschoche – 59%
Quis – 41%
This will be of interest to our Moore County readers.  We have ONE primary for the county board featuring the former mayor of Southern Pines vs. the former mayor of Whispering Pines. Frank Quis, of Southern Pines, is a great candidate who would serve well as a commissioner.  Quis has a very professional, very subtle, Southern gentleman style while Bob Zschoche appears to channel Donald Trump. 
But Quis has been out of office for a while, and hasn't been nearly as active with the party as Zschoche has been.  (Zschoche is still mayor pro team in Whispering Pines.)  I think these numbers reflect that.  But, remember, the numbers at the end of the day on March 15th are the ones that matter most.
Connect NC
Against – 58%
For 42%
This was an astounding result.  George Little, a bigwig with the local community college and the state system, gave an impassioned speech about why the bond needs to be passed.  Rising political superstar Nicole Revels followed him with a heck of a rebuttal.  The folks in the audience knew George, but not Nicole.