#ncgov: WHO approved THIS ?????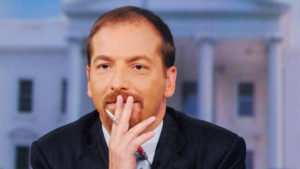 Governor Pat McCrory's reelection campaign has provided us with many a face-palm moment.  And yet there's another one on the horizon.  SOMEBODY in that camp OKed the governor participating in a debate on October 11 moderated by Chuck Todd, host of Meet The Press.   What, Laura Leslie was not available?  Hell, why not Chris Fitzsimon? 
The Wikileaks hack of the DNC's email revealed what a lot of us had already assumed:  El Chucko is Debbie Wasserman-Schultz's lapdog.     (*Chuck, this must stop.*)  McCrory also has some previous experience with Todd — having appeared on Meet The Press during a visit to Washington in April.
Here's an example of Todd's, um, "even-handedness" during that interview: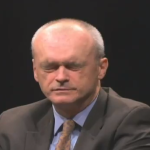 "How did the state of North Carolina, the state government, not overreach in just the same way?" Todd then asked. The NBC host noted that Charlotte discussed the issue at length, whereas the North Carolina legislature called a special session to rush the legislation through in one day.

"You guys debated for, like, ten seconds. I mean, don't you regret the time of debate?" Todd asked.

McCrory replied by explaining that he's met North Carolinians who support the new state law. He then argued that the legislature needed to pass the state law before April 1 in order to prevent the Charlotte ordinance from going into effect.

Later in the interview, Todd asked McCrory how refusing to protect gay and transgender people in state law differs from refusing to protect people from racial discrimination. […]
*Gosh, I wonder what El Chucko is going to want to talk about during the debate.*  
Todd also recently told his fellow drive-by sycophants at WRAL that McCrory signing HB2 will kill Republicans up and down the ballot. 

Oh, yeah.  This sounds like a GREEEEEEEAT idea.  Letting this guy moderate a debate less than a month before election day.