#ncga: Slugging it out for a House seat — LITERALLY.
In most cases, you'd love the fact your campaign has earned national and international media attention.  These two guys running for North Carolina House District 46 are probably regretting the incident that led to attention from outlets like Fox News and the UK Daily Mail: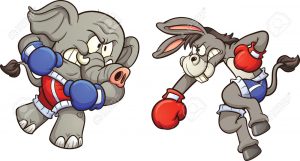 […] A witness told the Bladen Journal that Democratic candidate Tim Benton was trying to confront Republican Brenden Jones at the annual Beast Fest in Bladenboro.

Woody Hester told the paper that Benton was accusing Jones of being behind fliers linking him to a white supremacist group.

"Mr. Benton kept nudging him with his shoulder the whole time they were walking across, and then he just stepped back and little and coldcocked him," Hester said.

"To beat all, he (Benton) left a little child in a stroller to walk across the street, and if Mr. Jones' (companion) hadn't caught her, the child would have rolled into the street," Hester added.

The North Carolina Republican Party said late Saturday that Jones had filed criminal assault charges against Benton and called on the Democratic Party to remove Benton from the race.

"We are just thankful that Brenden Jones, his wife, and nine year old daughter, who were all with him at the time did not suffer serious injuries," North Carolina GOP spokeswoman Kami Mueller said.

Jones posted the North Carolina Republican Party's statement about the incident on his Facebook page, saying that he "did my best to defuse the situation."

According to a 1994 Fayetteville Observer article, Benton was accused of being involved in the distribution of Ku Klux Klan applications at a local school. Benton, then a middle school gym teacher and athletic director, said at the time that he was being targeted for supporting a local textile worker who was fired for refusing to remove a Confederate flag from his tool box.
Of course, Dallas — brother of Brad — had to get in on this: 
[…] "'It is clear this mail piece sent by the N.C. Republican Party struck a cord with Democrat Tim Benton, who objects to being connected to Hillary Clinton, even though they both seem to think they are above the law,' said N.C. Republican Party Executive Director Dallas Woodhouse in a written statement.[…] 
*Ooof.* Where do we begin here?   Are we to understand here that the NCGOP sent out a mailer equating the defense of a worker sporting the Confederate flag on his tool box with white supremacy?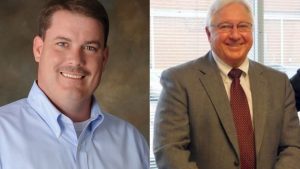 District 46 is a majority Democrat district covering Bladen County and a portion of Robeson and Columbus counties.  It is very rural and 63% white.  I'd be willing to bet that IN THAT DISTRICT, support for the Confederate flag is not as offensive as it would be in places like Wake or Durham counties.  (Rep. William Brisson, a Democrat who votes to the right of Charles Jeter and a few other Republicans, also represents Bladen County.) 
To win that district, a Republican is going to have to win some conservative-leaning white Democrats.  The folks who would be most offended by the Confederate flag — let's say, blacks — are not going to vote Republican anyway.  I just don't see equating support for the Confederate flag with white supremacy being the smartest strategy for running in this district.  
In 2010, Republican Gaston Pridgen upset a Democrat incumbent in that district.  The GOP-controlled General Assembly re-drew the district to make it MORE Democrat — instead of protecting the rookie Republican incumbent.  Of course, Pridgen lost in 2012 to Ken Waddell, the current incumbent who is not seeking reelection this year.